Can you feel your baby dancing yet?

your

baby this week:

Once upon a time, your baby's skeleton was made of flexible cartilage. But by week 18, their skeleton has evolved and is almost completely hardened bone. Their nerves are acquiring a protective sheath of myelin, a whiteish mixture of proteins and phospholipids that cover and insulate nerve fibers – the nervous system's "wires" – increasing the speed of communication between neurons and the rate at which impulses are controlled.

Your baby's thin, transparent skin is also developing a protective layer of vernix caseosa, which is a naturally occurring biofilm that looks a bit like white, greasy, creamy cheese. This substance shields your little one's developing epidermis and dermis from the amniotic fluid and provides a little slip-and-slide support for an easier delivery!

This week, your little one's genitals are noticeable! If you have an ultrasound scheduled, and if your baby cooperates and isn't curled up or otherwise hiding their private parts, you'll be able to discover if you're having a boy or a girl! It just depends on the fetal position, whether or not the organs are visible during the ultrasound. If you're having a boy, his little business will be visible. If you are having a girl, her uterus is fully formed and in the proper place, along with her fallopian tubes. On the ultrasound, her lady bits might look like three lines, or like a tiny hamburger.

In addition to possibly distinguishing your baby's gender, this ultrasound will examine the fetal heart rate, placenta location, and amniotic fluid. Your little one's organs and growth rate will be looked at too, making certain all fetal development is on track. If you're having twins, the ultrasound might show a membrane separating the two fetuses. You may even see how their little stretches and squirms are pushing fluid around, shifting the membrane!
your

body:

Congratulations! You've reached what is likely your final week of this pregnancy. If you haven't delivered already, it's almost time to meet your little one! Your hospital bag is packed (if it isn't, it should be!), or the baby pool is set up in its birthing place, and you are ready to go. The nursery is ready, or very nearly ready, and you have the car seat installed. You even have your baby's first outfit selected and placed out.

You've been patient for nine whole months, and the time is finally here! Just remember, when you finally do go into labor, it's important to stay calm. There usually is no need to rush to the hospital. For most women, labor typically lasts about 13 hours. If your water suddenly breaks, don't immediately rush out the door! Take a little time to make sure you have everything you need. If you have older children, make sure they have adult supervision and are taken care of. And then drive safely. You may even prefer to stay home until your contractions are closer together. When you first contact your midwife or doctor, they should be able to tell you how long to wait before you should head to the hospital, or before they head to your home.

Labor is typically broken down into three stages, beginning when your contractions become regular and ending after you deliver the placenta. When your contractions start to pick up, you are in the active phase of the first stage. Between this active phase and the next, known as the transition phase, you need to get to the hospital or to wherever you've planned to give birth. During the transition phase, your contractions grow closer together.

The second stage of labor is when you give birth to your baby! Your contractions will become more regular, with less and less time passing between them, and they will feel much stronger. You will either feel the need to push, or like you need to pass a stool. If you have received pain medication, you may not feel this urge to push and you'll be directed on what to do. The end of the second stage of labor is signaled by the birth of your baby.

Within an hour of giving birth, usually within five to ten minutes of delivery your baby, you will be told to push again. You will then deliver the placenta. However, you will probably be preoccupied by the new baby in your arms, and it is much smaller than the little newborn you've just pushed out.

Even though 40 weeks seems like a long time, you may still have another week or two to go. A baby's due date is merely an estimate, and your baby will arrive when he or she is fully ready! All that you can do in the meantime is relax, enjoy this these final pregnant moments, and rest. This is happening!
Louise Broadbridge - Our Expert Midwife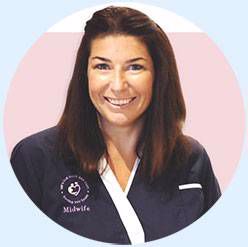 Hi, my name is Louise, I am a Registered Midwife, founder of Let's Talk Birth and Baby and the face behind Instagram's The Honest Midwife. I have worked in health settings for the past 30 years, the majority of which have been working in children and family settings.
your

tips & to do's:

Have you signed up for a childbirth class yet? If you are thinking about it, it's not too soon to start looking at what's offered near you. Limited class sizes tend to fill up more quickly than you'd expect. Some classes will last a couple of days, while others span over a couple of weeks or months. Do your research before deciding which birthing style is best for you. There are many techniques, such as Hypnobirthing, water birthing, the Alexander Technique, and the two most common types: the Lamaze Technique and the Bradley Method.

The Lamaze Technique teaches that childbirth is a normal, natural, and healthy process. It empowers women through education and support. This method should help you approach childbirth with confidence and explores ways to find strength, or comfort, during delivery, using various techniques for relaxation and eliminating counterproductive responses (like tensing up).

The Bradley Method emphasizes having a natural childbirth alongside the active participation of your partner. Traditionally, this course is given in 12 sessions and focuses on nutrition, exercise, and techniques for relaxation, and highlights the importance of trusting your instincts during childbirth. The Bradley method also encourages and is highly supportive of breastfeeding.
Write in your pregnancy journal - what do you think you are having? A boy? A girl? Write down your prediction!
By week 18, you're probably anxiously awaiting your upcoming prenatal appointment. An ultrasound is usually scheduled sometime between weeks 18 and 20. Your OB will use this time to check your baby's growth, fluid levels, heart rate, and movement, look for any abnormalities, AND determine the gender of your little one! You should be able to bring your partner, or any one person, with you. You should also be able to get photos and/or a video of the ultrasound. Check with your midwife or doctor to see what the office policies are, regarding this special, revealing ultrasound.
Should you find out the gender?
There are reasons for and against finding out the gender at this point in time. Knowing ahead of time can allow for nursery personalization, gender-specific name selections, toys, and clothing, and gives you the ability to genuinely picture what life after childbirth might look like. Alternatively, keeping your little one's gender a surprise builds suspense and gives parents something truly exciting to look forward to, which could color the delivery of baby number two or three pretty. You and your partner should come together when determining which path is right for both of you. And it's possible your baby will make the decision for you, because if he or she isn't ready to reveal their private parts, the most practiced sonographer won't be able to uncross those little legs.

If your baby is uncooperative, or if you just want to see more, you might choose to get a private, 3D ultrasound. This more expensive photoshoot can be tempting, especially if your doctor-ordered ultrasound revealed less than you'd hoped for. Speak with your doctor about your options before investing money in a keepsake like this.
your

symptoms

Your mind is busily preparing for your new arrival, your body is busy growing a human being, and in the middle of all that are aches, pains, pimples, and... gas. The ups and downs of pregnancy are exhausting, but once you're holding that bundle of joy and staring into those perfect, trusting eyes, it will all be entirely worth it. Below is a list of symptoms you might experience this week.
Baby kicks
Sleep complications
Swollen ankles and feet
Backaches, headaches, and hip pain (oh my!)
Clumsiness
Heartburn, indigestion, and/or gas
Pregnant dreams
Acne
Stretch marks
Weight gain
Sensitive and/or itchy skin
Articles For You to Read This Week
Our Top Rated Products to Buy This Week
Articles shown are a mixture of informative pieces, anecdotal accounts and professional advice from our panel of Bloggers, Writers and Experts. The views and opinions expressed in these articles are those of the authors and do not necessarily reflect the official view of this site.