Your baby is the size of an apple!

your

baby this week:

Your little one is keeping busy growing larger and developing inside of you like a champion. An Allstar. A poetic mastermind. An average Jo(cyln). An eccentric genius...

Your baby, now about the size of a Hacky Sack, or slightly smaller if you're carrying twins, is listening to your voice due to the tiny bones forming in their ears. They're also growing eyebrows, lashes, and hair. Their heart is now pumping roughly 25 quarts of blood every day, and their fingernails are continuing to grow. (Don't be surprised if you need to cut them right after birth!)

Now that their limbs are more developed, your little one has achieved some coordination (aka, they've almost got moves like Jagger). Another new skill your baby gained this week? They are emptying their bladder. every. forty-five. minutes. Yeah, we know. It's super cute.

What's next? Another growth spurt is just around the corner! In the coming weeks, your baby will double in weight and add inches to their frame.
your

body:

By week 15, it's possible you've gained about 5 pounds. There's no need to worry if it's a little more or less than that. And even though your morning sickness and fatigue have subsided, you shouldn't be surprised if you still experience an unexpected symptom or two.

Painful urination, abdominal discomfort, blood in your urine, and a frequent urge to urinate are all signs of a urinary tract infection (UTI). UTI's are more common in pregnant women because muscles in your urinary tract relax and slow the flow of urine, giving bacteria a better chance to grow into an infection. If you feel these symptoms and suspect a UTI, it is important that you tell your midwife or doctor these symptoms. If a UTI is left untreated, it may lead to pregnancy complications.

Higher amounts of estrogen may cause your mucus membranes to swell or produce extra mucus. This, as well as an increased amount of blood in your body, means you may feel like your nose is constantly stuffy. If your stuffy nose is accompanied with sneezing, coughing, or a sore throat, you may have a cold or are suffering from allergies. Your stuffy nose may even lead to a small nose bleed. If you have any concerns or questions, check with your midwife or doctor. In the meantime, you should avoid irritants, like cigarette smoke and air pollutants, which tend to worsen nasal congestion. You can also use a humidifier at night, adding moisture to the air, which should help to lower any nasal congestion. Likewise, a good old fashioned hot shower should also provide some relief.
Louise Broadbridge - Our Expert Midwife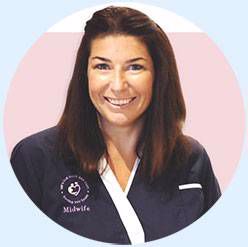 Hi, my name is Louise, I am a Registered Midwife, founder of Let's Talk Birth and Baby and the face behind Instagram's The Honest Midwife. I have worked in health settings for the past 30 years, the majority of which have been working in children and family settings.
your

tips & to do's:

Newborns can seem incredibly small and fragile. This causes many new parents to worry - obsessively worry - about everything, like their baby's fragile, paper-thin fingernails, which often tear too easily, and those teensy, tiny toes, which make peas look more like marbles. But babies are very resilient, especially when you consider their journey through the birth canal, which will even turn the shape of a few babies' heads into a temporary cone! While you certainly don't have to worry about breaking your baby during a diaper change, there are some things you can do to keep your little one safe. And it never hurts to be prepared.

Check into infant CPR training. Parents who learn the basics of CPR may feel more prepared for any potential emergency. With the number of hospitals offering regular classes nowadays, you're left with little room for excuses! Plus, it you may find it easier to participate in a class like this now, before you have a large belly or a new baby in tow. Once your baby arrives, you'll be happy for the days you're able to find enough time to take a shower and wash a few dishes. Meaning, the time you'll need to take a reoccurring class may be even harder to come across.

Keep safety in mind as you put your nursery together. This means the bassinet your great-great-grandfather slept in, albeit a family heirloom, should not be reused if there's a fraction of possibility your little one could get trapped between its railings. Everything you purchase, everything previously used and/or handed down to you, should meet the present-day safety recommendations set by the American Academy of Pediatrics. Due to health concerns and safety issues, there are a few major items you should avoid borrowing or buying if they've been previously used, gently used, or are "like new." For example, experts recommend you always purchase new mattresses, car seats, cribs, and breast pumps.

When considering crib bumpers and sleep positioners, do your research. These two products have gained bad reputations and amassed serious safety concerns over the years. Before deciding whether to use them, and make sure whatever you choose properly meets today's child safety and injury prevention guidelines.

Are you planning to paint walls in a nursery? Make sure you choose a brand of paint approved for pregnant women because, similar to why you shouldn't be gassing up your car or changing the kitty's litter, certain paints have chemical fumes that can be harmful to your unborn babe, It is impossible to eliminate all possible safety hazards in a home, but research and preparation can help you to focus on the things you can do to keep baby safe. Of course, you still won't be safe from diaper blowouts.
your

symptoms

From an increased libido to a stuffy nose and constipation, here is a list of the symptoms you may encounter this week.
Increased energy
Increased libido
Increased appetite
Round ligament pain
Nasal congestion and/or nose bleeds
Constipation, gas, and/or bloating
Heartburn and/or indigestion
Headaches, faintness, and/or dizziness
Larger breasts
Articles For You to Read This Week
Our Top Rated Products to Buy This Week
Articles shown are a mixture of informative pieces, anecdotal accounts and professional advice from our panel of Bloggers, Writers and Experts. The views and opinions expressed in these articles are those of the authors and do not necessarily reflect the official view of this site.