Your baby is the size of a pineapple

your

baby this week:

The bones in your little one's skull are fully formed, but not fused. In fact, the bones of a human skull do not fully fuse until early adulthood to allow some room for the brain to grow throughout childhood and adolescence. And more importantly, this lack of fusion, often referenced as the soft spot, and is what allows your baby's cranial and facial bones to overlap and fit through the birth canal during delivery.

Your baby is most likely in a head-down and ready-to-go position or will be soon. They are working their way down to your pelvis, gaining about half a pound and drinking about half a pint of amniotic fluid every week!
your

body:

By week 33, there is a lot more baby and a lot less fluid inside of you now, making those little kicks and jabs much stronger than they used to be. You are probably gaining about a pound a week, and everything feels swollen. Remember this: you're almost there!

Between nighttime bathroom runs, a huge belly, fetal movements, muscle cramps, sweating, swelling, and crazy dreams, you're probably feeling quite exhausted. Why is this, you wonder? It's simple. You are not getting enough sleep. But you need sleep. Try to make yourself as comfortable as possible. As your evening comes to a close, take a hot shower or warm bath. Listen to light, calming music. Write out the next day's to-do list and then leave the pen and paper at your bedside in case you think of any additions later on. Add a light blanket to your bedding and make your bedroom cooler. Mix a few drops of lavender essential oil with water in a spray bottle and lightly mist your bedding and pillows. Turn any electrical device's display screen lights to face away from the bed or cover them with black electrical tape. Right before getting into bed, stretch your legs - specifically your calves, but also your thighs, quads, knees, ankles, and toes. Your pregnant body needs you to get more sleep, and so does your growing baby.
Louise Broadbridge - Our Expert Midwife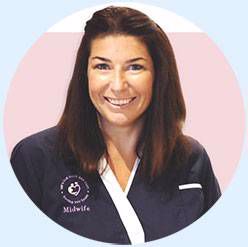 Hi, my name is Louise, I am a Registered Midwife, founder of Let's Talk Birth and Baby and the face behind Instagram's The Honest Midwife. I have worked in health settings for the past 30 years, the majority of which have been working in children and family settings.
your

tips & to do's:

According to the American Academy of Pediatrics (AAP), it only takes five minutes per day during the final weeks of pregnancy to prevent trauma and tearing to your perineal tissues during childbirth, and to decrease your chances of an episiotomy. How? By doing perineal massages.

A perineal massage entails gentle, manual stretching of the perineal tissues lining the birth canal. Perineal tears and episiotomies (which require stiches) are painful to recover from and may leave scarring. They may also cause you to battle urinary and fecal incontinence for many years! When you look at it that way, maybe you should give perineal massages a try. If you're uncomfortable doing this yourself, ask your partner for help. Any comfortable position will do, just make sure hands are washed and fingernails are nice and short, before getting started.

By week 33, you may hear little whispers behind your back, saying, "she's nesting!" If you're suddenly determined to take every item out of your kitchen cabinets to clean and disinfect all surfaces, or reorganizing closet spaces, this is totally normal. And yes, it's nesting. This impulsive need to pack away unused items and clean the world is your maternal instincts taking over and driving you to create a clean, safe, organized place for your baby. You are powerless to resist this.

If you are starting to feel this drive - this need to prepare - use that gorgeous energy to pack your hospital bag! There's no need to get carried away, you aren't moving into the hospital. You're just popping by for a quick visit. If you want a birthing ball or another type of birthing prop, call the hospital and ask if they have those items on hand and available for you. If they don't, you'll need to add it to your packing list.

The items you should pack in your overnight hospital bag include insurance info and identification, hair ties, toiletries, Chapstick, music, camera/cellphone, cellphone charger, a item that brings you a sense of calm (like a blanket, photo, pillow, gemstone, talisman, etc.), comfortable socks and nursing bra, one set of comfortable pajamas or maternity yoga pants and a light top (you can always opt to wear the hospital's gown), nursing pillow, clothes to wear home (for both you and your little one!), lanolin, baby cap and mittens, car seat, and a baby blanket. The hospital will have disposable undies and pads. Believe us when we say you will love their undies. Ask for a few extra to take home with you. Trust us. You'll be so happy!

Don't forget to write in your pregnancy journal this week!
your

symptoms

Pregnancy is exhausting, but when you hold that little baby, you'll realize it was all entirely worth it. Here is a list of symptoms you may experience during week 33.
Outie bellybutton
Larger feet
Stretch marks, itchy or dry skin, and/or unwanted hair growth
Swelling, or edema, in your ankles and/or feet
Sweating
Heartburn
Braxton Hicks
Tingling, numbness, or pain in your hands and wrists
Bleeding and/or swollen gums
Frequent nighttime wakings
Backaches and/or leg cramps
Crazy dreams
Fetal activity
Articles For You to Read This Week
Our Top Rated Products to Buy This Week
Articles shown are a mixture of informative pieces, anecdotal accounts and professional advice from our panel of Bloggers, Writers and Experts. The views and opinions expressed in these articles are those of the authors and do not necessarily reflect the official view of this site.