Your baby's brain is developing!

your

baby this week:

Your little one almost fills your entire uterine cavity. Their arms and legs are growing plumper via their continued growth of subcutaneous fat, and their eyelids are opening and closing. Your baby likely keeps their eyes closed most of the day; and when their eyes are open, they can track light inside of your womb (but not with 20/20 vision).

Lanugo will start falling off this week (that's the fine hair that once covered their body). And in the coming weeks, the volume of amniotic fluid in your belly will begin to decrease as your baby gains weight and takes up more space.
your

body:

At 30 weeks pregnant, it's pretty common to experience Braxton Hicks contractions. This is your body's way of preparing for the real deal - labor and delivery. You may feel Braxton Hicks after exercising or sex, or when you're dehydrated or fatigued. A good way to deal with these is by sitting down or lying on your side. Relax and drink water. If you have more than four contractions (or more) within an hour, call your midwife or doctor to make sure it isn't preterm labor.

Your fundal height (the distance from the top of your uterus to your pubic bone) should be about 28 to 32 centimeters this week, and you should've gained about 18 to 25 pounds (or 25 to 40 pounds if you're having twins). Don't stress over this weight gain. It's all part of the pregnancy package! You are beautiful.

Do you have heartburn this week? If you feel the burning, ask yourself: what did I eat? Foods that commonly cause heartburn include greasy, spicy, heavy, or acidic foods. You should avoid these foods, especially before bedtime. And speaking of bedtime...

This week, you may also be experiencing strange dreams. This is likely due to your increased hormones (surprise, surprise!), as well as any anxiety you may have right now. The best thing you can do is consider what's giving you anxiety and work through it. Nervous about getting to the hospital on time? Do a dry run! You might also consider adopting some bedtime habits to help you relax your muscles, soothe your mind, and better prepare you for a good night's sleep. Some things you might try include stretching, meditation, a warm bath, writing in a journal (your pregnancy journal!), listening to mellow music, diming the bedroom lights, and limiting your exposure to phone, computer, and television screens.
Louise Broadbridge - Our Expert Midwife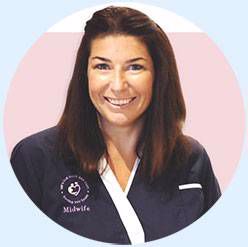 Hi, my name is Louise, I am a Registered Midwife, founder of Let's Talk Birth and Baby and the face behind Instagram's The Honest Midwife. I have worked in health settings for the past 30 years, the majority of which have been working in children and family settings.
your

tips & to do's:

Forgetful is, as forgetful does. Mind fog is normal during pregnancy, especially so in the third trimester, no matter how organized you once were. This mental nonsense will improve after the birth of your baby. And in the meantime, try to find the humor in your forgetfulness. You should also consider keeping a notepad on-hand or adopt the use of a note-taking app on your cellphone. For the most important of your to-dos, set an alarm on your cellphone.

Also, it's time to come to terms regarding if you'll use pain medication during labor and delivery. Many moms opt for a natural childbirth - natural meaning without the use of any pain medication - and many moms opt for an epidural at the hospital. If you are interested in learning more about the various methods moms use to deliver naturally, research the Alexander Technique, the Bradley Method, Lamaze, waterbirth, and Hypnobirthing. If you are leaning towards hospital medications, such as a local anesthesia or another common medication used to reduce anxiety and ease or lessen the pain of contractions, you should include this in your birth plan.

Have you selected a car seat for your little one? The most common choice for the first car seat is the infant bucket seat. These seats are often sold as part of a traveling system, with a matching stroller. They are widely available and can range in price from around $70 to $300 (price is influenced by color choices, added features, and brand names). Infant bucket seats are rear-facing only, and have a weight limit of 22 to 30 lbs.

Alternatively, you can opt for a convertible car seat. These operate in rear-facing mode until the baby passes its height and weight limits, and then converts to a forward-facing seat. Using a convertible seat from the beginning means only purchasing one car seat, but it also means sacrificing the convenience of being able to move a sleeping baby from car, to stroller, to house, without disturbing your little one's slumber. You also may face difficulties with a convertible seat if you have a preemie, or low-birth weight baby.

Regardless, all car seats are required to meet minimum safety standards; so, no matter which type of seat you choose, it is a great idea to get your car seat and its installation checked by a certified car seat safety tech. Your hospital or local fire department should offer safety checks. To find an inspection location in your area, visit seatcheck.org.

And don't forget to write in your pregnancy journal!
your

symptoms

Below is a list of pregnancy symptoms commonly experienced during week 30.
Swelling, or edema, in your ankles and/or feet
Stretch marks and/or unwanted hair growt
Sweating
Heartburn
Braxton Hicks
Tingling, numbness, or pain in your hands and wrists
Bleeding and/or swollen gums
Interrupted sleep
Backaches and/or leg cramps
Crazy dreams
Fetal activity
Articles For You to Read This Week
Our Top Rated Products to Buy This Week
Articles shown are a mixture of informative pieces, anecdotal accounts and professional advice from our panel of Bloggers, Writers and Experts. The views and opinions expressed in these articles are those of the authors and do not necessarily reflect the official view of this site.