Your baby's senses are developing!

your

baby this week:

The nerves cells in your baby's brain are developing their sense of sight, sound, taste, touch, and smell. And inside your little one's lungs, the main airways (called bronchioles) are beginning to form.

Your little one is also kicking around more this week. They now have hair sprouting from their scalp and lanugo, a furry smattering of hair all over the body. Unlike vernix caseosa (the white, creamy protective layer covering the skin) lanugo usually disappears by birth. The only exception is with a premature delivery.

If you're having a girl, her uterus and fallopian tubes are developed and identifiable. If you're having a boy, his testes and penis are developed and identifiable. If you don't wish to know the sex of your baby, be sure to make that clear with the ultrasound technician before your next ultrasound to avoid any unwanted information!
your

body:

You may finally feel entirely pregnant... and people can probably tell you are, too! Your uterus has outgrown your pelvis, and you might feel a little discomfort in your lower belly. This round ligament pain is caused by your muscles stretching to house your growing baby. Don't worry too much about this discomfort, and you should for sure tell your midwife or doctor about any pain or discomfort, always, during pregnancy.

Speaking of pain, if your legs are cramping in the middle of the night, compression socks might be your next favorite thing. Many pregnant women go through this and lose out on a good night's sleep because of it. Stretching your legs - specifically your calves, but also your thighs, quads, knees, ankles, and toes - right before you get in bed at night may help in reducing these cramp-waking sleep disturbances.

This week, your skin could feel itchy, dry, or flaky. You might be sporting a gorgeous linea nigra. You could even wake up one morning and recognize the mask of pregnancy (blotchy patches on your forehead, cheeks, nose, and/or chin). These hormone-related skin changes should gradually disappear after childbirth and in the meantime, just continue to drink a lot of water and eat a healthy, balanced diet. Now that you're well in to the second trimester, you should be gaining about one-pound per week.

As your body grows to make more room for your little one, it also produces more blood to support all systems on go. This extra blood flow can lower your blood pressure, so if you stand up too quickly, you might feel dizzy or lightheaded. This is called postural hypotension and is just one more way your body is reminding you to slow down.

Dizziness is also sometimes caused by the pressure of your uterus on the aorta and vena cava (two large vessels supplying blood to your body). When these vessels are compressed under your growing uterus, the speed at which blood circulates throughout your body slows, causing hypotension. Typically, you can relieve this symptom by lying on your side (it doesn't matter which side). Once you're flat on your side, the pressure of your uterus on the aorta and vena cava releases, allowing a healthier, more normal speed of blood flow circulation to resume.
Louise Broadbridge - Our Expert Midwife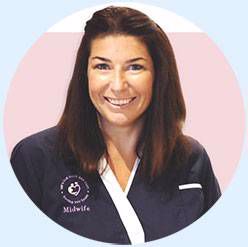 Hi, my name is Louise, I am a Registered Midwife, founder of Let's Talk Birth and Baby and the face behind Instagram's The Honest Midwife. I have worked in health settings for the past 30 years, the majority of which have been working in children and family settings.
your

tips & to do's:

An extremely fun part of preparing for your baby's arrival is creating a nursery. Whether you have a huge room just waiting for your baby's things to fill it, or a tiny home styled tiny space in the corner of your bedroom, you can't help but to enjoy making it special for your newborn. Many stores sell furniture collections and matching crib bedding sets with animals, alphabets, frills, stripes, sports, and everything in between. Shop around! You could easily discover multiple stores are selling the same product at higher or lower prices. Just as prices will vary, so too will quality, warranty, color, and style.

If the look you're going for is more je ne sais quoi, don't feel as though you're bound to a store's baby department. You may find that offbeat stores are the best places for finding artwork, rugs, storage choices, and furniture pieces. And you can always get crib sheets in a solid color or simple pattern. You can even have your nursery linens custom made. Choose colors and furniture that appeal to you, because you'll be in that space a lot, and your little one doesn't have any opinion on style, just yet. That whammy of fun will be yours in a few years, but not today.

In addition to taking your prenatal vitamins each day, make sure you are getting enough fluids and nutrition, like leafy greens and nuts, too! You should have eight to ten glasses of water, if possible, though a replacement glass (or two) of vegetable or fruit juice is good too! Try to get more iron into your diet as well - about 27-30 mg - to help support the extra blood flow in your body.

Write in your pregnancy journal and take a side profile picture of your good-looking, pregnant body.
your

symptoms

At 19 weeks, you might feel a few, or every single one, of the pregnancy symptoms below.
Leg cramps
Dizziness and/or Faintness
General discomfort, aches and/or round ligament pain
Increased appetite
Skin changes
Articles For You to Read This Week
Our Top Rated Products to Buy This Week
Articles shown are a mixture of informative pieces, anecdotal accounts and professional advice from our panel of Bloggers, Writers and Experts. The views and opinions expressed in these articles are those of the authors and do not necessarily reflect the official view of this site.