Your baby can now hear you!

your

baby this week:

Your little one is keeping busy growing larger and developing inside of you like a champion. An Allstar. A poetic mastermind. An average Jo(cyln). An eccentric genius...

Your baby, now about the size of a Hacky Sack, or slightly smaller if you're carrying twins, is listening to your voice due to the tiny bones forming in their ears. They're also growing eyebrows, lashes, and hair. Their heart is now pumping roughly 25 quarts of blood every day, and their fingernails are continuing to grow. (Don't be surprised if you need to cut them right after birth!)

Now that their limbs are more developed, your little one has achieved some coordination (aka, they've almost got moves like Jagger). Another new skill your baby gained this week? They are emptying their bladder. every. forty-five. minutes. Yeah, we know. It's super cute.

What's next? Another growth spurt is just around the corner! In the coming weeks, your baby will double in weight and add inches to their frame.
your

body:

Can it be? Well, as a matter of fact, yes! It's time to prepare yourself for maybe the most amazing experience of your pregnancy!

By week 16, some moms will begin feeling a fluttering of butterfly wings, bubbles, or gas, in a phenomenon known as "The Quickening." These are the first movements you'll feel – you'll finally feel! - your baby making. If this is your second or third (or more) child, you might detect these little movements more easily than first-time moms because you are familiar with this feeling. You may also feel these movements earlier than others because your uterus is more stretched out than it was during your first pregnancy. Most first-time mothers will fully recognize fetal movements around week 22. So, if you can't feel them yet, don't worry! In just a few short weeks you, too, will be able to identify your baby moving and shifting around!

If you detect these early movements, they will be sporadic at best. As as your pregnancy progresses, the movements become increasingly regular and the little flutters in your stomach grow more kicky. Since your family and friends won't be able to feel anything until about week 24, go ahead and soak up these private, special movements; because right now, they're just for you!
Louise Broadbridge - Our Expert Midwife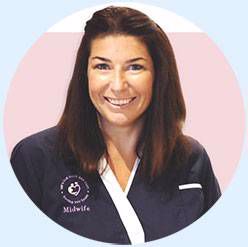 Hi, my name is Louise, I am a Registered Midwife, founder of Let's Talk Birth and Baby and the face behind Instagram's The Honest Midwife. I have worked in health settings for the past 30 years, the majority of which have been working in children and family settings.
your

tips & to do's:
your

tips & to do's:

If list-making doesn't come to you naturally, now is the perfect time to download a note-taking app, or gift yourself with a little, travel-sized notepad and pencil! By week 16, pregnancy brain has you on the forgetful side of things. Maybe you forgot it was so-and-so's birthday. Or you put a gallon of milk in the freezer. Perhaps you misplaced your sunglasses. In your defense, the changes in your brain are merely to keep you focused on your little one. To combat this, get into the habit of writing things down. When you schedule it, think of it, promise it, set it, are asked of it, etc., put it on the list, check the list twice (and often), and rest easy knowing your affairs are on task. Maybe check your freezer, too. There's a good chance your sunglasses are there, staring at a gallon of frozen milk.

Will you need any help or regular childcare after your baby is born? If so, begin doing research! It's never too early to decide whether your child will be at home with a parent, home with a nanny or family member, at a caregiver's home as one of a small group, or at a smaller/larger daycare center. Talk to parents in varying situations and listen to their personal experiences. Many options have waiting lists, meaning you may need to decide on these things sooner than you'd expected. As you make the best plan for your family, keep an open mind, and consider your second and third choices, just to play it safe.

Your pregnancy glow may sometimes be a bit oily skinned too, causing breakouts or acne. Be sure to wash your face and body every day with a gentle, cleansing soap, and avoid picking at pimples, bumps, and irritations. Extreme acne products should be cleared with your doctor before use, as some may cause issues during pregnancy.

Take a profile pregnancy picture and write in your pregnancy journal!
your

symptoms

Your skin is glowing, you have more energy, your hair feels thicker, and... are you feeling lustier than usual? How about bustier? There are many positive elements of pregnancy in the second trimester, as well as a few unsavory details. Here is a list of symptoms you may experience this week!
Larger, fuller breasts
Glowing skin
Fetal flutterings
Increased libido
Increased vaginal discharge
Stuffy nose and/or nose bleeds
Backaches and/or round ligament pain
Tender and/or bleeding gums
Acne
Dry, itchy, and/or sensitive eyes
Pregnancy brain
Constipation, gas and/or bloating
Articles For You to Read This Week
Our Top Rated Products to Buy This Week
Articles shown are a mixture of informative pieces, anecdotal accounts and professional advice from our panel of Bloggers, Writers and Experts. The views and opinions expressed in these articles are those of the authors and do not necessarily reflect the official view of this site.