Your Baby is the Size of a Rhubarb!

your

baby this week:

By week 38, your little one has probably reached their birth weight. Most babies weigh somewhere between six to eight pounds when they are born, with boys usually being longer and heavier than girls.

All of your baby's internal organs are ready to support them in the outside world, though their immune system will continue to develop after birth.

Your little one has developed a healthy amount of baby fat over the past week. Also, their fingernails and toenails have reached the end of their fingers and toes (and they might even need their nails trimmed after they're born!).
your

body:

Congratulations! You've reached the final weeks of your pregnancy (if you haven't delivered already)! Have you noticed any electrical tingles in your legs or vagina? Sometimes, as your baby settles down into your pelvis, they might hit a nerve and cause these tingles. You may also experience a sharp, shooting pain, which may mean your little one is resting on your sciatic nerve. Getting some rest and putting your feet up should help!

After experiencing Braxton Hicks contractions for a few weeks, you may be wondering how you'll know when it's time to call your midwife or doctor, for real. If your contractions become regular and frequent, it's probably a good time to call. Other valid reasons to call your doctor or midwife include if you notice some brown, pink, or red discharge resembling your mucus plug, or if your water breaks. As these are all signs announcing the start of labor, they are also signaling you to let your partner and doctor or midwife know it's time to go!
Louise Broadbridge - Our Expert Midwife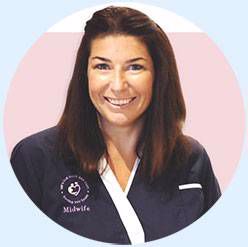 Hi, my name is Louise, I am a Registered Midwife, founder of Let's Talk Birth and Baby and the face behind Instagram's The Honest Midwife. I have worked in health settings for the past 30 years, the majority of which have been working in children and family settings.
your

tips & to do's:
All your bags are packed, and you're ready to go...
Many women find it helpful to mentally rehearse for childbirth. This week, set aside some time to go over the breathing and relaxation techniques you've decided to utilize during labor and delivery. These are the tools by which you'll manage the pain of labor.

If you've been practicing and visualizing and are simply ready for the real thing, try doing something to distract yourself in the meantime, like making a couple playlists of all your favorite songs. Let one playlist's purpose be for relaxation and use another for energy and encouragement. Make the playlists as long as you like, because you never know how long labor will last and the same songs on repeat may become more irritating than helpful. Fill a playlist with old school hits, songs that make you smile no matter what and songs that take you to another place in your mind. Creating these lists will help you take your mind off of your backaches, leg tingles, and intensifying contractions!
Paparazzi? Check!
Every sleepy smile and happy grunt is worth documenting. Just when you think the last expression your little one made was the cutest thing you've ever seen, they'll out-cute themselves all over again. You'll likely end up with computer full of blurry, unfocused uploads and one adorable nose crinkle. Investing in professional photos is always a great option, so look into professional photographers now, while you still have a little extra free time, if newborn photos are on your wanted listed. Good photographer's schedules fill up early, and newborns don't stay that wonderful newborn size for long.

You will also want to capture personal photos of those first days home, and posed studio photos won't have the same impact as the image of your father cradling his new grandchild for the first time, which someone will inevitably capture with their phone. Consider creating a place online to friends and family members to upload and share these images! Google Drive, Flickr, Facebook, Instagram, and more, offer numerous ways for you to accomplish this.

You can even ask family and friends to help you capture these moments ahead of time! Make sure you provide them with the site page, group, or profile link as soon as possible, as well as any username/password information they'll need (if they'll need it). Doing this now will protect those images - certain, perfect images of certain, perfect moments - from slipping through the cracks at the edge of this street as you grapple for some downtime between newborn feedings, diaper changes, social calls, trips to the supermarket, showers, naps, and so on.

We cannot confirm or deny the fact that any mom who waits until after the birth of her child to reap access to any print-worthy, share-worthy, adorable baby photo captured by friends and family members will fill her grappled downtime managing and sorting text messages and emails of requested and received photos, which she'll share if she has enough time. This same mom may also experience annoyance and cogitate thoughts lacking proper emotional maturity when friends or family members get to social media first and post special gasp-causing, aw-inducing photos of HER baby. Don't be this mom.

Some moments you'll absolutely want friends or family members to capture include:
the first time you hold your little one
the first time your partner holds your little one
the trip home (your ride in the wheelchair, your little newborn in the car seat, everyone getting into the car, etc.)
the first meeting between siblings and/or grandparents
the first bath
the first smile (any smile, really)
It's honestly okay to ask your friends and family members, ahead of time, to immediately delete certain photos, like any that show you with a triple chin or accidently capture you delivering a placenta in the background. If you prefer your friends and/or family members not witness something so intimate and special, or have control over images so raw and exposed, that's okay! Only do and ask for what you're comfortable with.

And don't forget to write in your pregnancy journal!
your

symptoms

Below is a list of pregnancy symptoms commonly experienced during week 38.
Constipation and/or hemorrhoids
Increased vaginal discharge
Stretch marks
Sweating
Heartburn
Braxton Hicks
Interrupted sleep
Backaches and/or leg cramps
Swelling or bloating
Crazy dreams
Nesting
Articles For You to Read This Week
Our Top Rated Products to Buy This Week
Articles shown are a mixture of informative pieces, anecdotal accounts and professional advice from our panel of Bloggers, Writers and Experts. The views and opinions expressed in these articles are those of the authors and do not necessarily reflect the official view of this site.