A wearable, wireless breast pump built for the modern mom on-the-go. Designed to fit in your bra, the Motif Aura is hands-free, powerful and discreet. Pair it with the Motif Aura app to pump smarter by controlling your setting and logging your sessions.
Ease of Use
Comfort
Noise Level
Portability
Durability
Easy to Clean
Design
Value For Money
Get Yours Now
First Impressions
The Motif was sleek and sophisticated-looking right out of the box. I plugged it in and it felt like it was charged right away - definitely less than an hour.
Ease of Use
While the pump was charging, I sanitized the parts. Once everything was ready to go, I started putting everything together. The pump parts, though different from those of a traditional flange pump, are basic enough and make perfect sense. If you have ever assembled a pump before, you can put this one together! It took a couple of tries for me to connect to the app via Bluetooth, but once it was connected, we were good to go. I really like that two different pumps mean you have the option to have each breast on a different setting and that it's easy to pump one at a time if you're just trying to even things out.
Comfort
Although these were a smidge bulkier than the other hands-free pump I tried, that makes sense because of how the pump is built-in. It definitely would not work in my flange-specific nursing bra because of how stiff/fitted that style of bra is, but in my clip-down nursing camis it was perfect. The silicone flanges are very comfortable AND very effective (probably because it promotes such a good seal!).
Storage + Portability
The pump barely takes up any room to store! And it's definitely portable. I've used this multiple times in the car, and the Motif was by far the most effective hands-free pump I've used (in terms of quantity of milk pumped). I even wore it walking in to work once with a flowy top over my nursing top and scarf for modesty/camouflage, and I don't think anyone noticed a thing!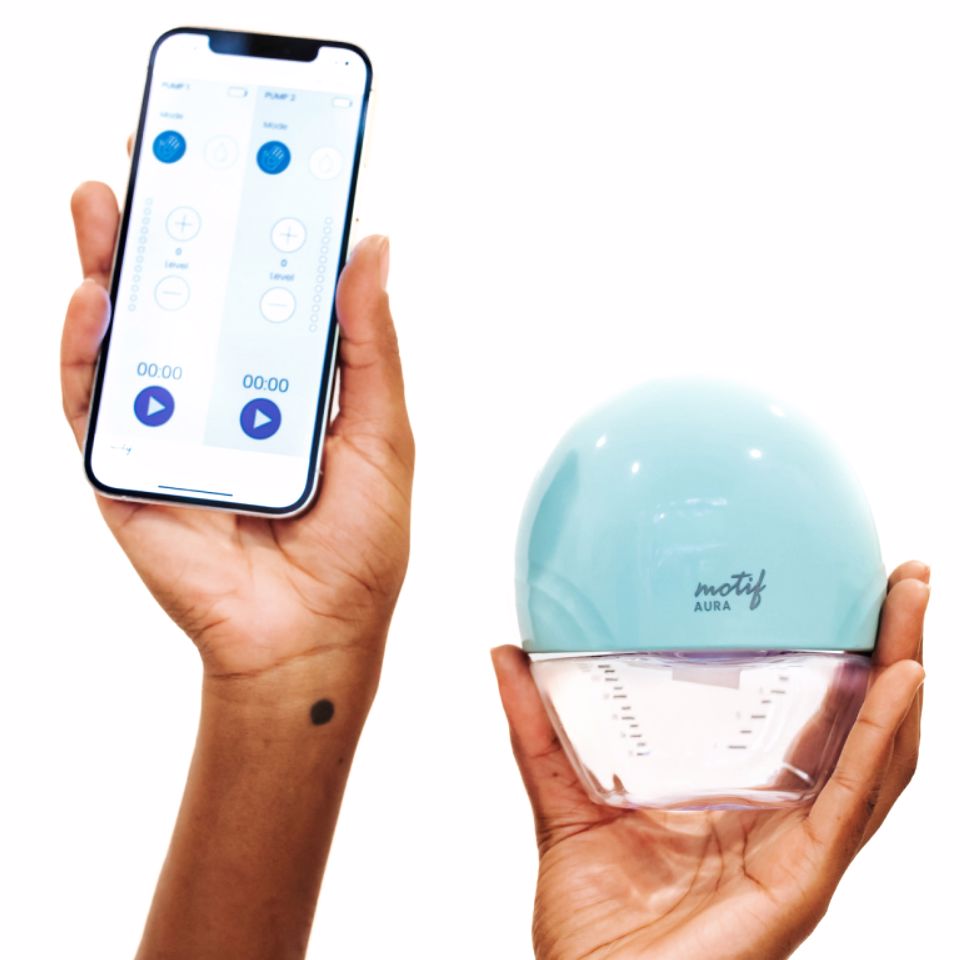 Easy Clean
The only part that isn't incredibly easy to clean is the bottle itself - I've noticed milk gets caught along the flat top side as you're trying to pour out of the spout. I kind of have to rock the bottle back and forth to shake out that last bit, and reaching that part of the bottle with a sponge isn't great (a bottle brush worked much better). But it's really just a mild inconvenience—everything else is perfectly easy.
Features
Some of the coolest features of the were in the app - I like how you can log how much you've pumped in each session and set alarms for pumping sessions! That definitely makes it easier to keep track of pumping times when you're out-and-about during a busy day.
Value for Money
Overall, I'd say this is worth the value! I was looking for a hands-free pump that was actually effective at expressing a normal amount of milk, like I would with my traditional, sit-down flange pump. This was it!
Final Thoughts
While this was not the quietest hands-free pump I tried, it was definitely the most effective. I really like how efficient the parts are, too - no tube to get tangled up in your bra or under your shirt! The pump is straightforward to assemble and to use, and the app provides extra support for planning your pumping sessions and your day. It's especially convenient for the occasional weekend session when I'm only away from home for a couple of hours and I can just tuck it into the nursing cami I'm already wearing. This is the hands-free pump I will continue to reach for!
Claim an
extra 20% Off

sitewide with code:

YBC20

at checkout - valid July 17 - 28 - excludes SNOO Rental, Gift Cards, Bundles and Comforters.
Articles shown are a mixture of informative pieces, anecdotal accounts and professional advice from our panel of Bloggers, Writers and Experts. The views and opinions expressed in these articles are those of the authors and do not necessarily reflect the official view of this site.