Sophisticated, strong, and soothing, the Motif Luna is a powerful breast pump offering an excellent balance of functionality and comfort.
Ease of Use
Comfort
Noise Level
Portability
Durability
Easy to Clean
Design
Value For Money
Get Yours Now
First Impressions
The Motif Luna breast pump's sleek design and quiet operation left a positive first impression, promising a user-friendly home breastfeeding experience.
Ease of Use
The Motif Luna breast pump stands out for its remarkable ease of use. Its intuitive controls and clear digital touchscreen interface make adjusting settings a breeze, even for first-time users. Assembling and disassembling the pump is straightforward, thanks to its minimal components and closed system design, which minimizes the risk of contamination. The ergonomic design also reduces strain during pumping sessions, enhancing user comfort.

While the initial setup might be a bit involved, it's straightforward. The Luna's overall user-friendliness ensures a hassle-free and efficient breastfeeding experience, making it an excellent choice for both beginners and experienced mothers seeking convenience and ease.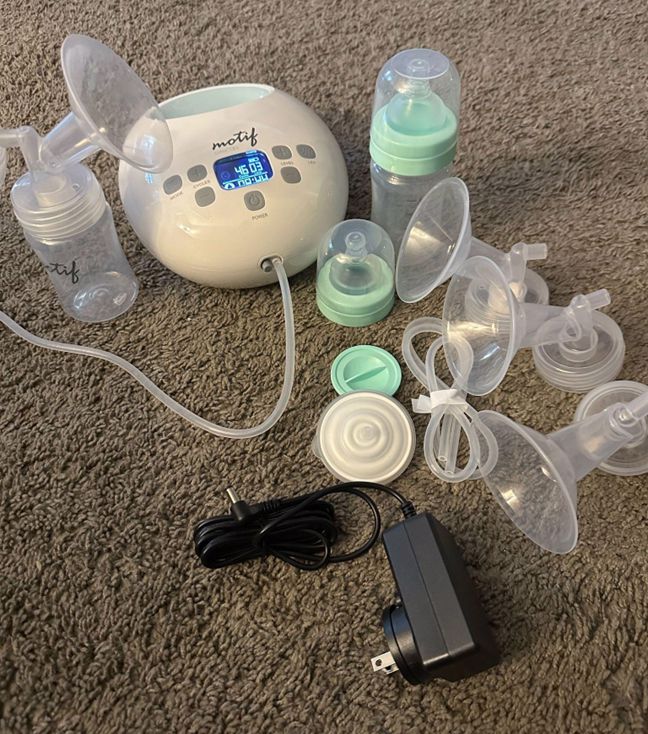 Comfort
The Luna excels in comfort with its customizable settings, allowing moms to find their ideal suction strength and rhythm. The soft breast shields and gentle expression mode contribute to pain-free pumping sessions. The motor's quiet operation ensures privacy and relaxation. Additionally, the pump is adaptable for single or double pumping, accommodating individual preferences. I found using the Motif Luna breast pump a comfortable and convenient experience.

The customizable settings allowed me to find the perfect rhythm and suction strength, ensuring pain-free pumping sessions. It was easy to assemble and clean, which saved me time and hassle. The quiet motor provided privacy, and the design, while a little bit bulky, was ergonomic. The portability could be better, but the overall value for money was satisfactory. It made my breastfeeding journey more manageable, and I would recommend it to other moms.
Storage + Portability
The inclusion of a cooler bag and milk storage containers is a thoughtful addition for storage needs. The breast pump is a bit bulky, which may pose challenges when it comes to portability and storage. It's not the most travel-friendly option for on-the-go moms, and finding suitable storage space can be a hassle. However, its performance and comfort might outweigh this drawback for some users who prioritize those aspects over portability.
Easy Clean
Cleaning the Luna pump is straightforward, thanks to its few parts and it's detachable, dishwasher-safe parts. The hassle-free maintenance is a significant plus for busy mothers.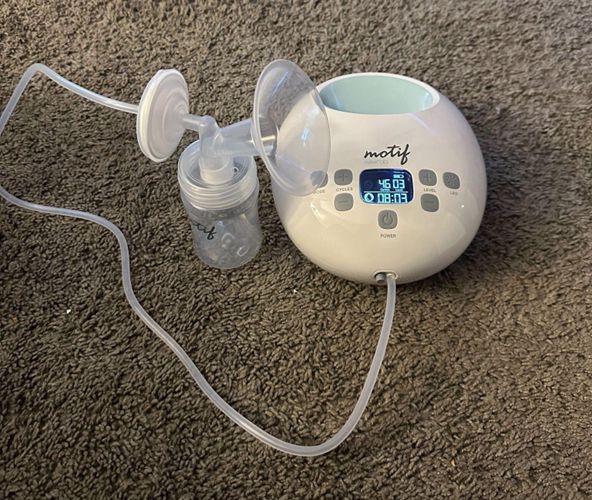 Features
Motif Luna offers various features, including adjustable suction and expression modes, a memory function for preferred settings, and a timer. The rechargeable battery allows use for increased mobility. Motif Luna is exceptionally user-friendly while at home. Its intuitive controls make it easy to adjust settings, while the display offers clear navigation. The pump's closed system ensures hygiene and simple assembly. The lightweight and ergonomic design reduces strain during use.
Value for Money
The Motif Luna's performance and comfort justify its mid-range price. It offers an excellent balance of functionality, ease of use, and comfort for its cost.
Final Thoughts
Motif Luna is overall a user-friendly and comfortable breast pump, suitable for at-home use.
Claim an
extra 20% Off

sitewide with code:

YBC20

at checkout - valid July 17 - 28 - excludes SNOO Rental, Gift Cards, Bundles and Comforters.
Articles shown are a mixture of informative pieces, anecdotal accounts and professional advice from our panel of Bloggers, Writers and Experts. The views and opinions expressed in these articles are those of the authors and do not necessarily reflect the official view of this site.