Have you been told off by your partner for snoring?

your

baby this week:

Your little one continues working on their senses. They are also gaining a little baby fat, with a side of muscle tone! Your baby is intensifying their features, acquiring a less transparent skin tone, and growing hair. They are breathing in and swallowing amniotic fluid, preparing their lungs and digestive system for their quickly approaching life on the outside.

And technically, their lungs are presently capable of breathing air; however, it would be difficult for your little one to breathe on their own if they were born today.
your

body:
Congratulations! You've made it to the third trimester of pregnancy!
By week 28, the average weight gain is 17-24 pounds (around 22.5 pounds if you're carrying twins). Don't worry if your weight gain is a little more or less than this. Weight is carried and gained differently for every woman. According to the Centers for Disease Control and Prevention, the suggested weight gain during pregnancy is as follow (based on your weight before pregnancy):
ONE bun in the oven
Underweight (BMI < 18.5): 28-40 pounds
Healthy, normal-weight (BMI 18.5-24.9): 25-30 pounds
Overweight (BMI 25-29.9): 15-25 pounds
Obese (BMI > 30): 11-20 pounds
TWO buns in the oven
Underweight (BMI < 18.5): 50-62 pounds
Healthy, normal-weight (BMI 18.5-24.9): 37-54 pounds
Overweight (BMI 25-29.9): 31-50 pounds
Obese (BMI > 30): 25-42 pounds
If you have any concerns, speak with your midwife or doctor, whom you should be seeing every two weeks now that you're in your last trimester. In fact, it's a good idea to keep a small notepad and pen with you to jot down any questions or make use of a note-taking app on your cellphone. Having a list of questions ready at your next prenatal appointment is a great way to make sure all your concerns are addressed. If any high-risk situations are discovered during a routine visit, such as preeclampsia, Pregnancy Induced Hypertension (PIH), gestational diabetes, or placenta previa, you may have to schedule more frequent visits with your midwife or doctor.
Louise Broadbridge - Our Expert Midwife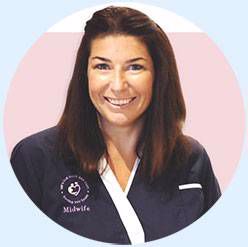 Hi, my name is Louise, I am a Registered Midwife, founder of Let's Talk Birth and Baby and the face behind Instagram's The Honest Midwife. I have worked in health settings for the past 30 years, the majority of which have been working in children and family settings.
your

tips & to do's:

If you plan on using a birth plan, no matter what you're planning, you should write it out. A written birth plan, or a written statement of your and your partner's preferences for labor and delivery, may be a good idea. And bringing a copy of this plan to the hospital with you is an even better idea. It's a simple way to inform anyone you may come in to contact with of your preferences for this birth. There is no one way, or more correct way, to compose a birth plan. Dawn's may be several pages, typed, addressing every aspect of her birth requests; and Azami's may simply be a short, written paragraph, detailing her wishes.

Here are some question your birth plan might address:
Do you want to listen to music? Did you bring any music?
Do you want access to a tub or shower?
Do you want pain medications? Of the opioid (narcotic) medications more commonly used for labor pain relief - fentanyl, Nubain (nalbuphine), morphine, and Stadol (butorphanol) - do you have a preference?
Do you want an episiotomy?
Do you want a routine IV, a heparin/saline lock, or nothing at all?
Is there a position in which you would prefer to give birth?
Those who choose to compose a birth plan may feel an enormous release of stress and anxiety surrounding the big day. So, set aside some time to discuss your personal labor and delivery wishes with your partner and to go over the many options available together.

Take a side profile pregnancy picture and write in your pregnancy journal this week.
How will you wear your baby?
Have you taken a good look at the various slings, wraps, hybrids, and structured carriers available? Baby-wearing is a practice that has been common throughout history and provides many benefits for babies and parents. Even the dads who once refused anything other than a front or back-carrying, structured version are opening up to newer styles of baby-wearing products, because baby-wearing is a great way to soothe a fussy newborn. The closeness and gentle motion often replicate the closeness of the womb - a familiar, warm, and safe association.

Baby-wearing also grants you the use your arms, so you're still able to complete those standards household tasks if your little one needs to be held at the same time. Wearing your baby is also a wonderful way to keep your baby close and protected from germs when you are out in public. Baby-wearing can stimulate bonding, promote nursing, and relieve tired arms. So, if you are interested in baby-wearing, you have boundless options. There are many types of carriers, and many ways to hold and use each. There are groups and websites dedicated to the practice of baby-wearing, offering reviews, advice, and help for new mothers who want to learn more before purchasing anything. Talk to other parents too, and find out which they prefer, and why.
your

symptoms

By week 28, most of your symptoms are directly related to the amount of space your little one now occupies inside of you. Here are some things you may experience this week.
Outie bellybutton
Larger feet
Stretch marks, itchy or dry skin, and/or unwanted hair growth
Swelling, or edema, in your ankles and/or feet
Sweating
Heartburn
Braxton Hicks
Tingling, numbness, or pain in your hands and wrists
Bleeding and/or swollen gums
Frequent nighttime wakings
Backaches and/or leg cramps
Crazy dreams
Fetal activity
Articles For You to Read This Week
Our Top Rated Products to Buy This Week
Articles shown are a mixture of informative pieces, anecdotal accounts and professional advice from our panel of Bloggers, Writers and Experts. The views and opinions expressed in these articles are those of the authors and do not necessarily reflect the official view of this site.