Your baby is the size of a strawberry!

your

baby this week:

Your little one gained around half-an-inch in the last week and continues to steadily grow! Now about the size of a prune, your baby has reached an important developmental milestone. At week 10, your baby, no longer an embryo, is officially considered a fetus. Your little one's brain is speedily developing; and though the head is about half the length of the entire body, everything will eventually even out into proper proportions.

This marks the beginning of the fetal period, in which the organs will rapidly mature. Once your baby reaches the fetal period, they become less susceptible to certain birth defects and congenital malformations. It is important to remember, however, that certain toxins, such as second-hand smoke, are not good for your developing baby and should be avoided.
This week, the kidneys, liver, heart, and intestines are forming tissue.
Your baby's heartbeat is approximately 160-170 beats per minute! Toenails and hair have started to grow, adding tiny, cute details to your baby's body. The limbs are now able to flex, wrists can bend, and hands can come together. The legs may even be long enough for the feet to meet in front of the body. Your baby will even start swallowing and kicking this week, though you won't feel anything at this point. The movements are still too little.
your

body:

If you haven't looked in the mirror lately, it's time to check out that belly bump you're sporting! At week 10, your uterus is the size of a grapefruit, versus the pear-size uterus you had before getting pregnant, so your midsection is a bit fuller now. And though it may not be time for maternity clothes, don't be surprised if your normal wardrobe is beginning to feel snug! If you wish to avoid maternity clothing for as long as possible, look for forgiving pants and skirts with elastic waistbands.

Are you wondering why your veins are much more noticeable these days? This is because your blood volume increases 40 to 50 percent during pregnancy. So, if you are becoming more and more aware of the veins in your breasts, legs, and stomach, don't worry! This is totally normal.

It's also completely normal to feel some aches and pains in your abdomen as it stretches to accommodate your baby's growth. This is called round ligament pain. If you're concerned at all about any aches and pains in your abdomen, mention this at your next midwife or doctor appointment.

Depending on your level of fitness during this pregnancy, you might find it easier to forget about your morning sickness, midday sickness, nighttime sickness, and/or fatigue as you participate in a wide range of physical activities. Swimming, for example, is an excellent option. If you don't have access to a pool, walking is a great option too. Exercise builds muscle tone, strength, and endurance, all of which will help you carry the weight you are about to gain and prepare for labor. If you have any doubts or questions about exercising, check with your midwife or physician. Your doctor can help you decide on the type and level of exercise right for you.
Louise Broadbridge - Our Expert Midwife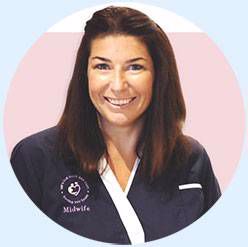 Hi, my name is Louise, I am a Registered Midwife, founder of Let's Talk Birth and Baby and the face behind Instagram's The Honest Midwife. I have worked in health settings for the past 30 years, the majority of which have been working in children and family settings.
your

tips & to do's:
Watch out for UTIs, which are more common to get during pregnancy.
Talk to your midwife or doctor about which exercises are and aren't okay for you during this pregnancy.

Take advantage of these early months of pregnancy by fitting in one last, pre-baby vacation, also known as a "babymoon." Welcoming a new baby is certainly reason for celebration. But it also means giving up quite a bit of your spontaneity. A quick trip with friends, or a few leisurely hours at the beach with a drink, will not be as easy as you think, once your little one is here. Babies are small and portable, it's true! However, traveling with a baby will certainly change the dynamics of any vacation. Preparing for these changes with one last worry-free trip sans baby is as good a reason as any for a bit of rest and relaxation.

To plan this escape, first check with your doctor. Even with a healthy pregnancy, free of complications, your doctor may have some restrictions regarding when and where you travel. For example, most doctors will recommend against traveling too far from home or flying during the later stages of pregnancy. You likely won't feel up to travel during your last couple months of pregnancy anyways, so it is generally better to plan on taking your getaway before the end of your second trimester.

Pregnancy doesn't mean giving up the physical activity you've always enjoyed, but it isn't the time to try something, like skiing, for the first time. That being said, if you are already quite winded after climbing a flight of stairs, you may want to forego the usual hiking trips and take a leisurely stroll through a historic city instead. The whole idea behind a babymoon is to do things that offer you fun and relaxation, with plenty of down time. Have some quality alone time with your partner. Take some time off from work and book an overnight stay at a nearby destination. Spend a weekend at home, in bed, with no distractions. This new phase of life you are entering and the joys of welcoming this new life into the world deserve a little celebration.

Schedule any prenatal testing you've decided on.

Write in your pregnancy journal.
your

symptoms

Perhaps this pregnancy has been all smooth sailing, or perhaps your pregnancy symptoms are in full swing, both of these are completely normal. Here is a list of some, but not all, symptoms commonly experienced during week 10.
Swollen, tender breasts
Morning sickness, nausea, and/or vomiting
Excess saliva
Lower back pain
Round ligament pain
Visible veins
Mood swings
Vaginal discharge
Heartburn and/or indigestion
Constipation, bloating, and/or gas
Thicker midsection
Articles For You to Read This Week
Our Top Rated Products to Buy This Week
Articles shown are a mixture of informative pieces, anecdotal accounts and professional advice from our panel of Bloggers, Writers and Experts. The views and opinions expressed in these articles are those of the authors and do not necessarily reflect the official view of this site.