Traveling with babies can always add a little extra stress on any trip. It's a fact. Some mothers would say otherwise, but let's not kid ourselves, they're lying. We all know that to other passengers, there's one thing worse than an active infant on a plane… an active infant on a plane, who's bored. The judging eye rolls, sideways glances and head shakes of disgust are all too familiar to moms. Unless you're on a long-haul trip around the world, flights don't last forever, nor do tears and tantrums, so don't despair, travelling with an active infant is doable!

Not all babies are a handful, granted. Most sleep through flights and are perfect angels but you've got to remember, it may be their first time flying and the air pressure and noise may not agree with them, resulting in a very restless child. With our tips and tricks on how to travel with an active infant, as recommended by our wonderful Facebook fans, you'll be a travelling pro in no time! Though be warned, these tips may not work for everyone, but motherhood is all about trial and error... right? First and foremost, you need to start adopting a 'what happens, happens' attitude and accept that if your baby gets upset, it's not your fault, nor is it theirs.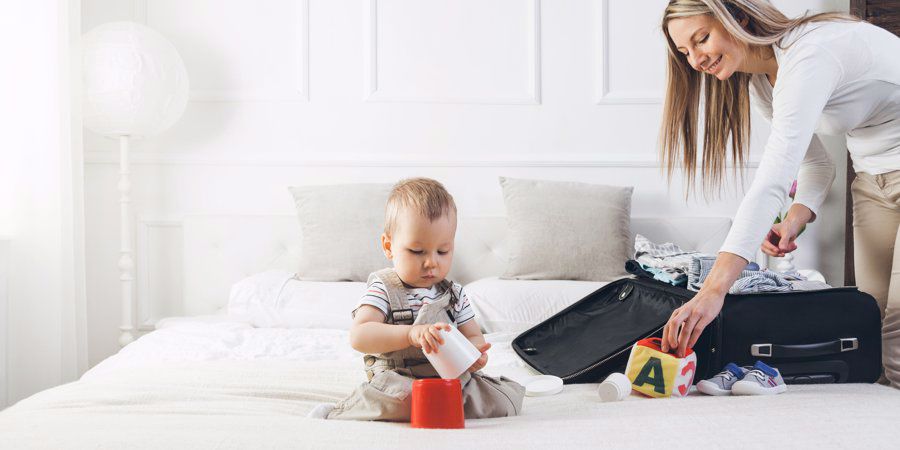 Pack Light
Whether it's your first time travelling or you're a frequent flyer, getting everything to fit in a carry on can be a challenge. The lighter you travel, the easier your trip will be, so wear the baby where possible using a harness or wrap as this will also give you more hands to juggle everything else. If you're going straight from the airport into a rental car, you can get away with taking larger bags. If not, pack essentials and request things like car seats from the accommodation ahead of time.
Order what you can't Pack

For diapers, formula, fruit puree and other pharmacy essentials, a great tip is to pre-order them from your destination and pick them up when you're at the airport or shortly after. This also means you don't have to make room for them in your luggage. Also, make sure you've booked an aisle seat, preferably at the very front or very back of the plane, closest to the toilet as not to be at risk of 'accidents' or disturbing too many fellow passengers.
Entertain them with Enrichment
Babies can be very easily distracted, whether it's with your jangly keys or mobile phone, keeping their brain active is sure to keep them quiet and may even send the little one off to sleep. Whether you're pro 'electronic babysitter' or prefer to stimulate their minds without technology, a plane doesn't have room for your child's plethora of toys. So here are some apps for your phone or tablet to keep little ones stimulated for as long as they can stay awake - testing their motor skills, hand-eye coordination and aiding their development.
Our Top 5 Free Apps are:
Infant Zoo
Baby's Musical Hands
Smart Tot Rattle
Peppa Pig Paintbox
Baby Apps, by Fisher Price
For those looking for enrichment away from the blue glare of a screen, there's plenty of offline activities to keep your little angel's cries at bay. A great recommendation came from many of our moms to bring a library of sticker books. Depending on your little one's age, they may prefer more interactive storybooks with things to touch and feel.
Our Top 5 Baby Books are:

Usborne My First Sticker Book
Baby's Very First Touchy-Feely Play Book by Fiona Watt
'That's not my…' range from Fiona Watt
Jellycat Jungly Tails Children's Soft Book
Hello You! (Baby's First Peek-a-book)
Travel During Nap Time
Traveling during nap times may ease some stress, giving both you and baby a chance for some shut-eye. Wear them out for long enough and they'll be out for the count! This tip does come with the obvious risk; babies get insanely cranky when they're tired and can make an absolute racket, to the annoyance of other passengers. You know your baby, use your judgement to see if this would work. If this is the first time you've traveled with them, they may surprise you, but always pack onboard activities as a contingency.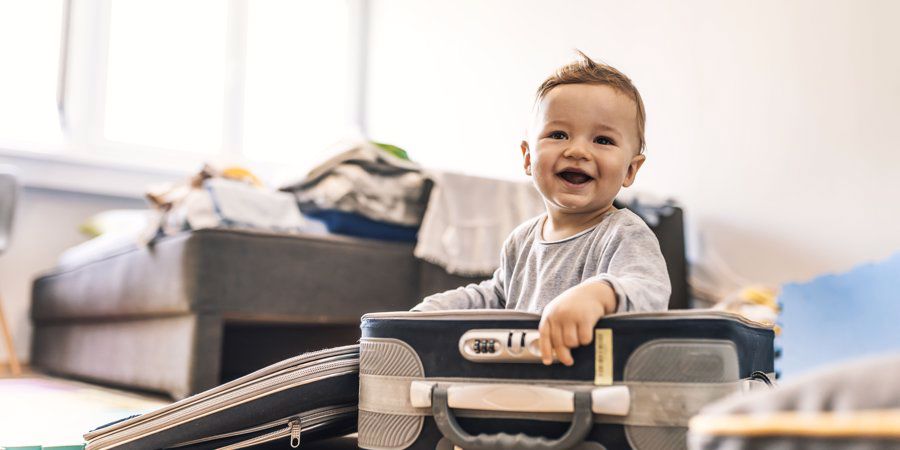 Know your Luggage Restrictions
Different airlines often have different weight limits for bags, and restrictions on the number of carry-on items you're allowed. You are usually allowed to bring a baby changing bag and a handbag on board with you, so you can fit a few spare clothing items and other essentials for the flight. If it's big enough, you can fit a bit more in there to free up space in your carry on luggage. Be careful with liquids though, as you're not allowed more than 3.4 oz of products like diaper cream and oils on board. As mentioned above, get as many liquids as you can from stores at the airport as airport shopping bags are sealed and exempt from their restrictions, but it may cost you a pretty penny to do this. Most airlines allow you to take strollers and car seats all the way to the plane then put in the baggage hold, which may give your baby some comfort and your arms a rest.
All things considered, try to relax. Make a checklist far ahead of time so you can make sure you have everything you need, and plan your trip thoroughly, including all of your stops and rental arrangements. This way, you won't forget anything if you or baby end up having a bad day when it comes time to leave.
Articles shown are a mixture of informative pieces, anecdotal accounts and professional advice from our panel of Bloggers, Writers and Experts. The views and opinions expressed in these articles are those of the authors and do not necessarily reflect the official view of this site.