Your baby is the size of a sesame seed!

your

baby this week:

Your little sesame seedling already has a heart with four chambers, which begins pumping blood this week. It won't yet be audibly discernable to you or your doctor, but the movement of it would likely show up on an ultrasound by week six or seven.

By week five, the embryo is securely nestled into your uterine wall and dividing into three cell layers: the ectoderm, the mesoderm, and the endoderm. The top layer of cells, called the ectoderm, is where the hair, skin, tooth enamel, nails, and mammary and sweat glands will develop. The neural tube, which eventually forms the brain and spinal cord, will start to develop too.

The mesoderm, or middle layer, will make the most impressive changes this week. The mesoderm is also responsible for developing muscles, cartilage, bone, placenta, and the umbilical cord. In the weeks to come, the bottom layer (called the endoderm), will eventually develop your baby's lungs, intestines, thyroid, pancreas, and early urinary system.
your

body:

By now, the level of hCG in your urine should be high enough for a home test to detect (and confirm!) what you probably already expect - you're pregnant!
This week, you may feel... everything!
Happy, anxious, exhausted, depressed, scared, powerful, sexy, frumpy, if you can name it, you can feel it. It's like an amped-up PMS, but amplified. Exaggerated. As your hormones flare, your emotions will generally do the same, reeling you about your day like one-woman soap opera. Mood swings are a normal part of pregnancy and most intense during the first six months.

It's too early for you to have gained much weight; and even though the first month of pregnancy is behind you, you may still not feel pregnant. Furthermore, women who experience a lot of morning sickness may even lose some weight during the first month of pregnancy.

If you're experiencing morning sickness, some moms-to-be find it helps to eat six smaller, high-carb meals (instead of three, large meals). Other moms-to-be advise avoiding fatty foods and keeping saltine crackers in your purse for any spur-of-the-moment queasy attacks. If nausea and vomiting are keeping you from food right now, don't worry. Your little one doesn't need you to add extra calories to your diet yet. During the first trimester, the average weight gain is usually about three to five pounds.
Louise Broadbridge - Our Expert Midwife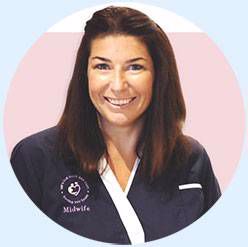 Hi, my name is Louise, I am a Registered Midwife, founder of Let's Talk Birth and Baby and the face behind Instagram's The Honest Midwife. I have worked in health settings for the past 30 years, the majority of which have been working in children and family settings.
your

tips & to do's:

To combat the discomfort that is your abnormally tender breasts, invest in a proper jogging bra, which will feel more comfortable than the normal go-to bra you're probably growing out of.

Write down the details of your pregnancy, because the next months of your life will be filled with excitement, stress, trials, expectations, and plans for the future. From gear to choose and a nursery to prepare, to extra snacks and extra naps, channel your thoughts, wishes, and worries into a pregnancy journal or blog. For journal inspiration, look through pregnancy and baby sections at local bookstores. Some journals have designated spaces to record the details of doctor visits, symptoms, weight gain, and more. Other journals offer question prompts, or blank pages from cover to cover.

Check out other moms-to-be chronicling their lives via blogs on the Internet. You may even find unexpected joy in having an easy, accessible way to update friends and extended family members who want to check in on your progress and enjoy photos, expanding and strengthening your circle of love and support. Whether you use a journal as an outlet for your private thoughts or to stay in touch with distant family and friends, it's a great way to capture your personal memories and milestones.

Join a local pregnancy support group, online or in person, if you are feeling lonely, or lack support.
Drink a lot of water
If you haven't told your partner about the pregnancy, or if haven't selected an OB or other pregnancy healthcare provider, now is the time to do so!
your

symptoms

In week five, life tends to continue as it did before. You may not feel any different and wish you'd start feeling or looking pregnant, yearning for some symptom as proof of the life growing inside of you. Alternatively, you may be experiencing a few - or all - of the early pregnancy symptoms, mentioned below, yet wish to keep your symptoms and growing belly under wraps for as long as humanly possible.
Increased hCG levels
Morning Sickness, nausea, or vomiting
Food aversions
Tender, swollen, sore, or tingling breasts
Darkened areola
Cramps
Spotting
Frequent urination
Constipation
Fatigue
Metallic taste in mouth
Mood Swings
No Symptoms
Articles For You to Read This Week
Our Top Rated Products to Buy This Week
Articles shown are a mixture of informative pieces, anecdotal accounts and professional advice from our panel of Bloggers, Writers and Experts. The views and opinions expressed in these articles are those of the authors and do not necessarily reflect the official view of this site.