your

baby this week:

Your little one continues to grow and develop inside of you. And from now until two weeks before birth, they will continue to gain about half a pound of subcutaneous fat each week. Unlike the first trimester, weight will vary from baby to baby in the third trimester, some are taller and weigh more, and some are shorter and weigh less.

Your baby is also more settled into a sleeping routine. When they are sleeping, their eyes are closed. When they are awake, their eyes are open.
your

body:

At week 34, your baby's head may be in a head-down position, entering the birth canal to prepare for birth. When this happens, it is often referring to as "dropping."

When your baby drops, it will be noticeable. For first-time moms, this may happen about three weeks before delivery. If this isn't your first pregnancy and delivery, your baby might not drop until the day before you deliver!

How do you know if your little one has dropped? There will be a change in your abdomen, due to your little one resting in a lower position. This is great news for your lungs, but bad news for your bladder. You will find it easier to breathe, which hopefully means you are able to get to the bathroom quicker; because now that your little one is now sitting on your bladder, the urgency and need are much more intense!

If you are having multiples, 50 percent of women in your shoes deliver between 34 and 37 weeks. In fact, women carrying twins often go into labor before the 37th week of pregnancy.
Louise Broadbridge - Our Expert Midwife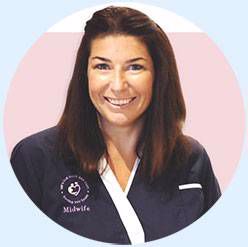 Hi, my name is Louise, I am a Registered Midwife, founder of Let's Talk Birth and Baby and the face behind Instagram's The Honest Midwife. I have worked in health settings for the past 30 years, the majority of which have been working in children and family settings.
your

tips & to do's:

Install the car seat this week! Since about 90 percent of new parents install their car seat incorrectly, be sure to review the car seat instruction manual and your car's owner's manual and correctly follow both. The safest place in your vehicle - usually the middle, back seat - is where you should put your little one's car seat. It needs to face backwards, and the base needs to be tightly secured. Once you have the car seat installed in your vehicle, get it inspected at a station listed in the National Highway Traffic Safety Administration's directory.

Are you thinking of breastfeeding? Though breast milk is naturally good for your baby, breastfeeding your baby may not come so naturally. The U.S. Surgeon General recommends breast milk for the first six months of life. It is easier for babies to digest breast milk than it is to digest formula. Your breastmilk contains the perfect amount of fat, sugar, water, and protein needed in order for your little one to grow and develop. Your breast milk even protects your baby from bacteria and viruses, as it is rich in antibodies. If breastfeeding becomes a struggle in any way, it's a good idea to ask for some professional help. Many hospitals employ lactation consultants and have a knowledgeable nursing staff to help you. Doulas and midwives are also a valuable resource to help you navigate these unfamiliar waters.

Over the course of your pregnancy, you've probably imagined your delivery going many different ways. Or maybe you've avoided thinking about the fact that this baby, who keeps getting bigger, will have to get out of your body somehow or another. Either way, you're getting close to the time where things start to happen.

Most women will progress through each stage of labor and experience a vaginal delivery successfully. But for some women, progress through the stages of labor doesn't naturally occur. This, and other factors, determine a necessity for a cesarean. Be prepared because labor can change in an instant. The medication-free, doula-assisted, natural labor you envisioned might become an emergency c-section, with you under general anesthetic. No matter what turns may come, your doctor is there to assist you in reaching the desired outcome, which is a healthy baby and mother.

Some women feel guilty if they don't see childbirth as the magical experience they imagined. Instead, they are just glad to have it over with and want to go to sleep. Other mothers may feel guilty because their labor didn't progress, and they had a c-section. They feel as if their body has failed them, and they mourn the delivery they thought they would have. Women who deliver pre-term babies often wonder if there was something that they could have done differently to avoid an early birth, and the accompanying NICU time. It can be difficult to let go of this guilt.

As you prepare for delivery, try to keep an open mind about the experience. It is wonderful to envision what will take place, to stay involved and make a birth plan. But you should try to give yourself an allowance for what might happen. You might find that laboring without an epidural is much more painful than you ever imagined and opt for the pain medication. You may find that after 24 hours of labor, with no progress, you are ready to discuss a c-section.

Be ready to let things happen. A don't forget to write in your pregnancy journal.
your

symptoms

Below is a list of pregnancy symptoms commonly experienced during week 34.
Constipation and/or hemorrhoids
Increased vaginal discharge
Stretch marks
Sweating
Heartburn
Braxton Hicks
Interrupted sleep
Backaches and/or leg cramps
Swelling or bloating
Crazy dreams
Nesting
Articles For You to Read This Week
Our Top Rated Products to Buy This Week
Articles shown are a mixture of informative pieces, anecdotal accounts and professional advice from our panel of Bloggers, Writers and Experts. The views and opinions expressed in these articles are those of the authors and do not necessarily reflect the official view of this site.