Have you started having Braxton Hicks contractions?
your

baby this week:

All of your little one's organs are fully developed, except for their lungs, and they are slowly moving into a head-down position, for birth. They're inhaling amniotic fluid, preparing their lungs for breathing, and working on sucking and swallowing, preparing their digestive system for life outside the womb.

Most of your baby's wrinkles are disappearing, especially on their face, and hair is becoming thicker with each passing week. If you had an ultrasound this week, they'd look very different from the last ultrasound!

If you are having multiples, your babies are getting a little cramped. To work with the space they have available, they will begin to slow their weight gain from this point on.
your

body:

Are you waddling, instead of walking? This is actually a good thing!

At 31 weeks, your body is producing relaxin, a hormone naturally secreted in the ovary by the corpus luteum. During pregnancy, relaxin is also released from the placenta and uterine lining. The relaxin hormone loosens the ligaments in your pelvis, allowing it to stretch when your little one leaves your body during delivery. And it's responsible for your gorgeous waddling!

Are your legs cramping at night and keeping you awake? This is common during the third trimester. There are a few things you can do to prevent, or lessen, these cramps, like taking breaks throughout the day to put your feet up and rest. You should also be drinking a lot of water, to prevent your muscles from getting dehydrated. Another trick to try is eating a banana! Muscles spasms and cramps are more likely to occur if your body's calcium and potassium levels are too low.
Louise Broadbridge - Our Expert Midwife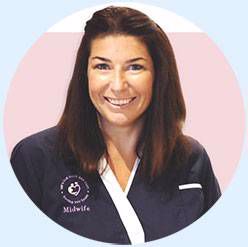 Hi, my name is Louise, I am a Registered Midwife, founder of Let's Talk Birth and Baby and the face behind Instagram's The Honest Midwife. I have worked in health settings for the past 30 years, the majority of which have been working in children and family settings.
your

tips & to do's:

At this point in your pregnancy, you may be contemplating the various options you have for your little one's delivery. Depending on your pregnancy, the options may range from a natural waterbirth delivery with the help of a doula, to a hospital-scheduled caesarean with an entire team of healthcare workers.

Even if you are planning on a vaginal delivery, you should still familiarize yourself with the caesarean procedure. If you've previously had a baby delivered via caesarean, your doctor will likely encourage you to schedule another caesarean delivery this time. For many women with a previous caesarean, this is not the only option. It's merely the more typical route taken by healthcare practitioners. If your heart is truly set on experiencing a vaginal delivery, speak up at your next appointment. Other common causes for having a caesarean include when labor is not progressing properly, if a prolapsed umbilical cord prevents adequate blood flow to the baby, and if the baby's heartrate slows too much during contractions.

Another topic to think about this week is breastfeeding. The benefits of breastfeeding are well documented; and while there are some women who are unable to breastfeed for various reason, there are many incentives to try nursing, from both a nutritional and financial standpoint. Fortunately, statistics show that most women will give nursing a good try before choosing to use formula instead. But the number of breastfed babies drops substantially after about three months post-birth for various reasons, such as mothers returning to work. The International Labor Organization (ILO) calls for a minimum twelve-week maternity leave but recommends fourteen weeks as preferred. Presently, if you have a regular nine-to-five job and plan on returning to work after birth, now is a good time to discuss the terms of maternity leave with your employer, if you haven't already. And keep in mind you can always take a five to tenminute bathroom break at work to pump breastmilk. Many employers provide refrigerated space for employees to store their lunch. No one has to know your lunchbox is also storing a bag or two of that good good.

In addition to mothers returning to work, the declining number of breastfed babies might be attributed to mothers who struggle to produce enough milk as a result of missed feedings after a weekend away, or a bout of illness, or a plugged or blocked milk duct. Though many newborns are able to immediately, and correctly, latch onto the breast, others have a harder time with it. When a newborn struggles with latching and sucking, it affects their mother's ability to produce milk. When this happens, the help of a lactation consultant may be very beneficial. Any amount of breast milk benefits your baby. In fact, the American Academy of Pediatrics (AAP) recommends breastfeeding for the entire first year. (Did we mention that breastfeeding burns calories and helps re-flatten your post-delivery stomach? Yeah. It's definitely a bonus.)

So... what will you choose? If you decide to breastfeed, how do you plan to handle any concerns or complications that may arise? Do you know of any local Lactation Consultants? Are there nearby breastfeeding support groups? What will be your personal line-in-the-sand for choosing to formula-feed your baby? This is a great week to contemplate on and educate yourself about nursing. The best decision is your decision.

And don't forget to put these thoughts down on paper... like, in your pregnancy journal!
your

symptoms

By week 32, most of your symptoms are directly related to the amount of space your little one now occupies inside of you. Here is a list of some things you may be experiencing.
Outie bellybutton
Larger feet
Stretch marks, itchy or dry skin, and/or unwanted hair growth
Swelling, or edema, in your ankles and/or feet
Sweating
Heartburn
Braxton Hicks
Tingling, numbness, or pain in your hands and wrists
Bleeding and/or swollen gums
Frequent nighttime wakings
Backaches and/or leg cramps
Crazy dreams
Fetal activity
Articles For You to Read This Week
Our Top Rated Products to Buy This Week
Articles shown are a mixture of informative pieces, anecdotal accounts and professional advice from our panel of Bloggers, Writers and Experts. The views and opinions expressed in these articles are those of the authors and do not necessarily reflect the official view of this site.