Your baby is the size of a coconut

your

baby this week:

Your little one is encountering key brain and nerve development. All five senses are fully developed, their irises fully react to light, and they can turn their head from side to side.

As you've probably noticed, your baby is moving around a lot these days! Their arms, legs, and body are filling out as they continue to develop fat underneath their skin, making each kick and turn feel stronger than last week. You might even see an arm or a foot moving slowly across your belly. (Aw!)
your

body:

Are you having any Braxton Hicks contractions? Common towards the end of a pregnancy and often referred to as "false-labor", Braxton Hicks contractions commonly last about 30 seconds. These are relatively painless and shouldn't occur more than four times within one hour. If they are more frequent however, it may be a sign of preterm labor. Call your midwife or doctor if you experience: more than four contractions within an hour, an increase or change in vaginal discharge, abdominal pain or cramping, increase in pressure in the pelvic area, and low back pain (especially if you haven't experienced this low-back pain before).

Is there any leakage from your nipples? This "pre-milk" is called colostrum. An easy way to keep tabs on this with nursing pads, which will absorb the fluid and keep it from soaking through your top. Even if you aren't leaking any colostrum, your breasts are making it. This is also why your bra is probably fitting a little more snugly than it used to. If you decide to buy any new bras from this point on, you might consider getting a nursing bra one size larger than your present demand calls for. You just might find yourself extremely grateful for the extra room in a month or two.
Louise Broadbridge - Our Expert Midwife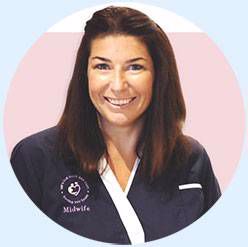 Hi, my name is Louise, I am a Registered Midwife, founder of Let's Talk Birth and Baby and the face behind Instagram's The Honest Midwife. I have worked in health settings for the past 30 years, the majority of which have been working in children and family settings.
Have you scheduled a maternity photoshoot session yet? If you have any friends who've had maternity photoshoots, then you've probably seen their photos. And we're sure you have your opinions. There's the usual unbuttoned shirt photo with the swell of your belly peeking out, and the interlocked hands around the growing bump, or hands shaped into a heart overtop the growing bump, all of which tend to be hallmarked images that celebrate the pregnant form. There's also the kindred man bump (where he's pressing his belly out to its fullest grandeur) pressed against baby mama's bump image to consider too, along with full nudity and boudoir, versus outdoors and fully clothed. Either way, maternity photos are a great keepsake to help you remember this significant change in your life.

To find the right maternity photographer, ask around! A high-quality photographer knows which angles are best for pregnant women and how to capture them effortlessly. Your friends, family members, and coworkers may have excellent recommendations. You can also search online. Look at the photographer's personal website and portfolio of work. Do you like the overall feel of their images? The colors captured, and the scenery chosen? Some photographers offer packages for maternity and newborn shoots, and some offer digital versions and will ask you to pay per jpg.

Good maternity photographers are usually booked early on; the longer you wait, the smaller your chances of getting your session booked when you want. And keep in mind, if you schedule your maternity photoshoot for some time during your 38th week and go into labor at 37 weeks, you'll have waited too long. Get it scheduled!

If you already have enough going on right now, you might also consider having a friend take a few photos, if you'll feel comfortable and have a good camera to use. Let's face it, many cellphones nowadays can take a dang good picture. Turn yourself into a model and have a fun girl's night in! The best ways to capture the perfect image include using natural light (a flash may make you look washed out) and keeping it simple (there's no need to make a career change of things). You don't need props and wardrobe changes, nor a staged background. You could also make it a family affair! If you have older children, let them get in on the lights, camera, action. Get your spouse to jump in; or if your partner is a really good sport, take some pictures together! You want a snapshot of life, as it presently is - who you are and what life is about - in this moment.

And don't forget to write in your pregnancy journal this week!
your

symptoms

The ups and downs of pregnancy are exhausting, but once you hold that little baby and stare into those perfect, trusting eyes, it will all be entirely worth it. Below is a list of symptoms you might experience during week 31.
Swelling, or edema, in your ankles and/or feet
Stretch marks and/or unwanted hair growt
Sweating
Heartburn
Braxton Hicks
Tingling, numbness, or pain in your hands and wrists
Bleeding and/or swollen gums
Interrupted sleep
Backaches and/or leg cramps
Crazy dreams
Fetal activity
Articles For You to Read This Week
Our Top Rated Products to Buy This Week
Articles shown are a mixture of informative pieces, anecdotal accounts and professional advice from our panel of Bloggers, Writers and Experts. The views and opinions expressed in these articles are those of the authors and do not necessarily reflect the official view of this site.