Want a bassinet that helps your little one sleep longer, giving you more time to collect your own personal Zzzs? Happiest Baby has done it. They've created an innovative bassinet that detects your baby's cries and responds by gently rocking them with white noise and gentle motion. This comfortable, safe, FDA De Novo Approved bassinet helps your baby fall fast asleep and cry less, and it comes with their organic SNOO sack and easy, hands-free control via a simple downloadable app.
Weight
Safety
Accessories
Durability
Size / Storage
Features and Accessories
Design
Affordability
Best For
Customer experience and their SNOO Sacks - a patented swaddle that clips into SNOO. SNOO is the first and only FDA De Novo Approved Infant Sleep System that comes with a SNOO Sack, which keeps babies positioned safely on their backs as they sleep.
Pros & Cons
'Smart Bassinet', responding to baby's cries with sound and movement
Easy-to-use, downloaded App
Developed by Dr. Harvey Karp, celebrity pediatrician and author of 'The Happiest Baby on the Block'
Includes the incredibly safe SNOO Sack Swaddle
Option to rent bassinet
Quite Expensive
Lack of portability
Specifications
Stroller Features
Protective swaddle wings that keep your baby safely on their back
Machine washable
Advanced audio processing that detects baby's cries
White noise with soft rain and womb sounds
Responsive ambient light sensor for adjustment of LED intensity
Polyurethane foam mattress
10 million cycles of continuous movement
FDA De Novo Approved
Sleep trains your babies
Specifics, Weight & Dimensions
Bassinet:

Overall: 19" wide x 35.5" long x 30.5" high with legs
Weight: 52 lbs
Weight Capacity: 33 lbs
Mattress Platform: 14" wide x 30.5" long
Bassinet Sides: 9.5" high
Legs: 16.5" high
Mattress:

Weight: 3.5 ounces
Overall: 14" wide x 30.5" long x 1" thick
Fitted Sheet:

Overall: 14" wide x 30.5" long
Get Yours Now
Claim an
extra 20% Off

sitewide with code:

YBC20

at checkout - valid July 17 - 28 - excludes SNOO Rental, Gift Cards, Bundles and Comforters.
SNOO Smart Sleeper:

$1,695.99 Buy Now
SNOO - Certified Pre-loved:

$1,195 Buy Now
First Impressions
The SNOO was easy to set up and the packaging broke down easily for storage and future mail-back (ours is a rental). It is a convenient height and a perfect size for right next to the bed! It also looks great in the space - perfectly simple and sophisticated.

After we got the bassinet put together, we had a little bit of trouble connecting to the app, but were able to follow the troubleshooting directions, resetting everything until it clicked. The app is easy to navigate and the settings are very clear - we started with the suggested normal settings.
First Attempts
The first time we laid baby girl down in the SNOO, she peed through her diaper, onesie, and swaddle almost immediately (ah, the joys of parenting!). So, we stripped everything, tossed in the wash, and went back to our regular bassinet for that night. The second time we laid her down, she lasted about 20 minutes or so until she had a huge spit up - cue another round of laundry and another night we couldn't really use it! I definitely recommend getting a second set of sheets and a second swaddle to make sure you don't run into the same issue.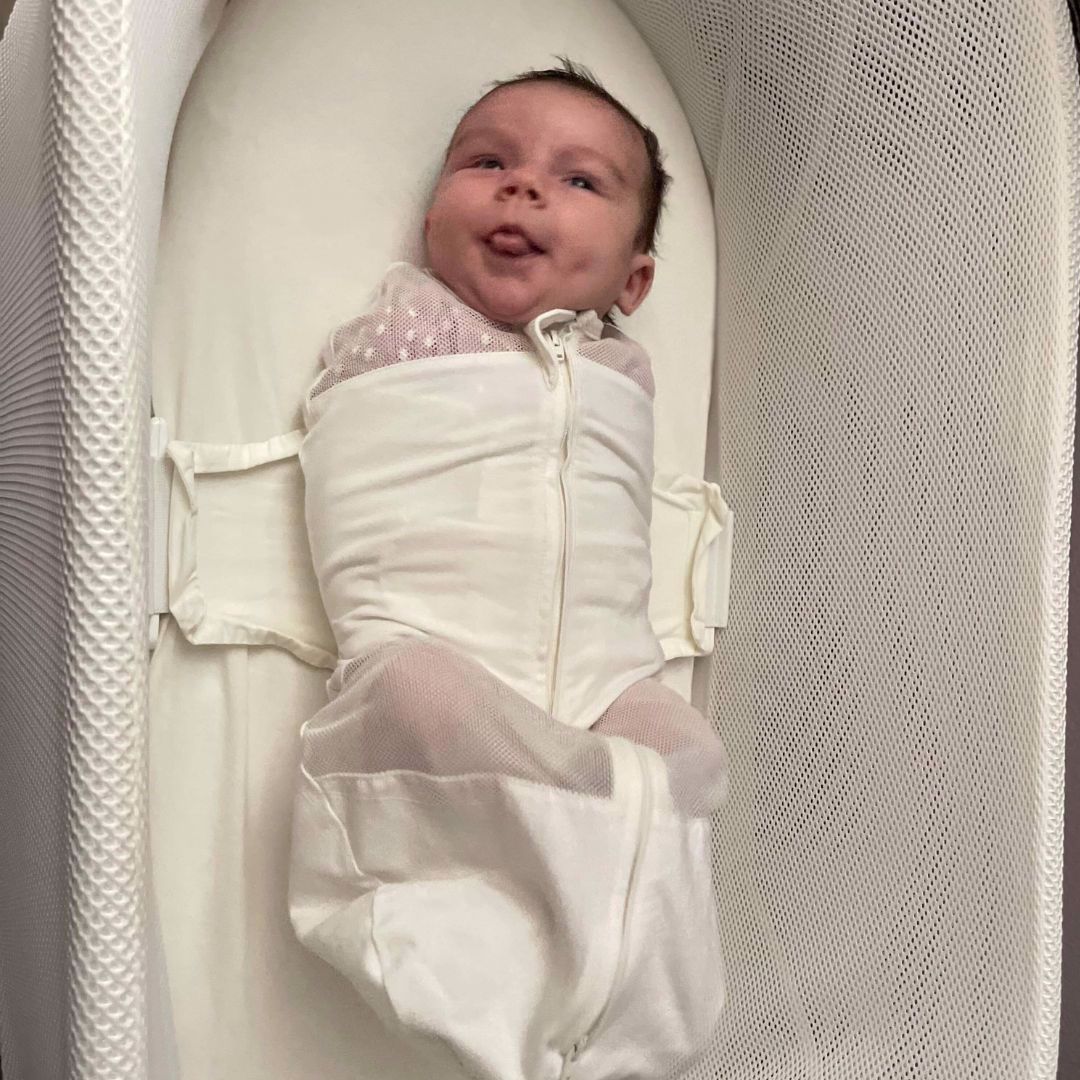 Getting Used to the SNOO
After our first couple mishaps, we finally had our first successful nap in the SNOO! We had a nice, solid feeding session, hung out for a little while, and waited for a nice big yawn before we scooped her up and swaddled her up. First of all, this swaddle is AMAZING - it's super secure and kept my girl's arms nice and tucked in while her hips stayed free and loose. To top it off, I love the feature that it has to unsnap for arm holes when she's ready to start transitioning out of the swaddle! The swaddle also has a lot of mesh for breathability, so we definitely make sure to use long-sleeved, footsie pj's at night so that she stays warm (we like a cool house!).

Once our babe was snug and cozy, I held her and rocked her until her eyes started to get droopy and I could tell she was nice and drowsy. Then, I gently set her down and slid the clips into place - they were a bit tricky and I jostled her at first - her eyes fluttered open but I put one hand on her chest and pressed the on (Activity) button with my other hand and let the SNOO do it's thing! Then (I didn't even have to tiptoe out of the room, thanks to the built-in white noise), I backed away slowly, closed the door, and immediately rolled out my yoga mat for almost exactly a 30 minute nap. Success!! This is the really amazing thing about laying her down in the SNOO - putting her down drowsy but awake, and letting it rock her the rest the way to sleep. Not only has it been an absolute lifesaver for my back and feet, but it's also best practice for babes to fall asleep in their own sleeping space to help with better sleep training later on down the road.
Comfort & Ease of Use
Once we had our first success, the rest was pretty much history! Our kiddo doesn't need much help falling asleep at night anymore (yay for establishing a strong circadian rhythm!), but the SNOO has been an absolute lifesaver for daytime naps. I actually don't even need to turn it on anymore at night (or I'll turn it on the Weaning setting), which helps my peace of mind for knowing that one day I'll have to transition her out of it. In the meantime, I am grateful every time I put her down during the day for a nap that was NOT in my arms (because let's be honest, sometimes you just have to get a few things done around the house - or for yourself, like taking a shower - WITHOUT an infant attached to you!).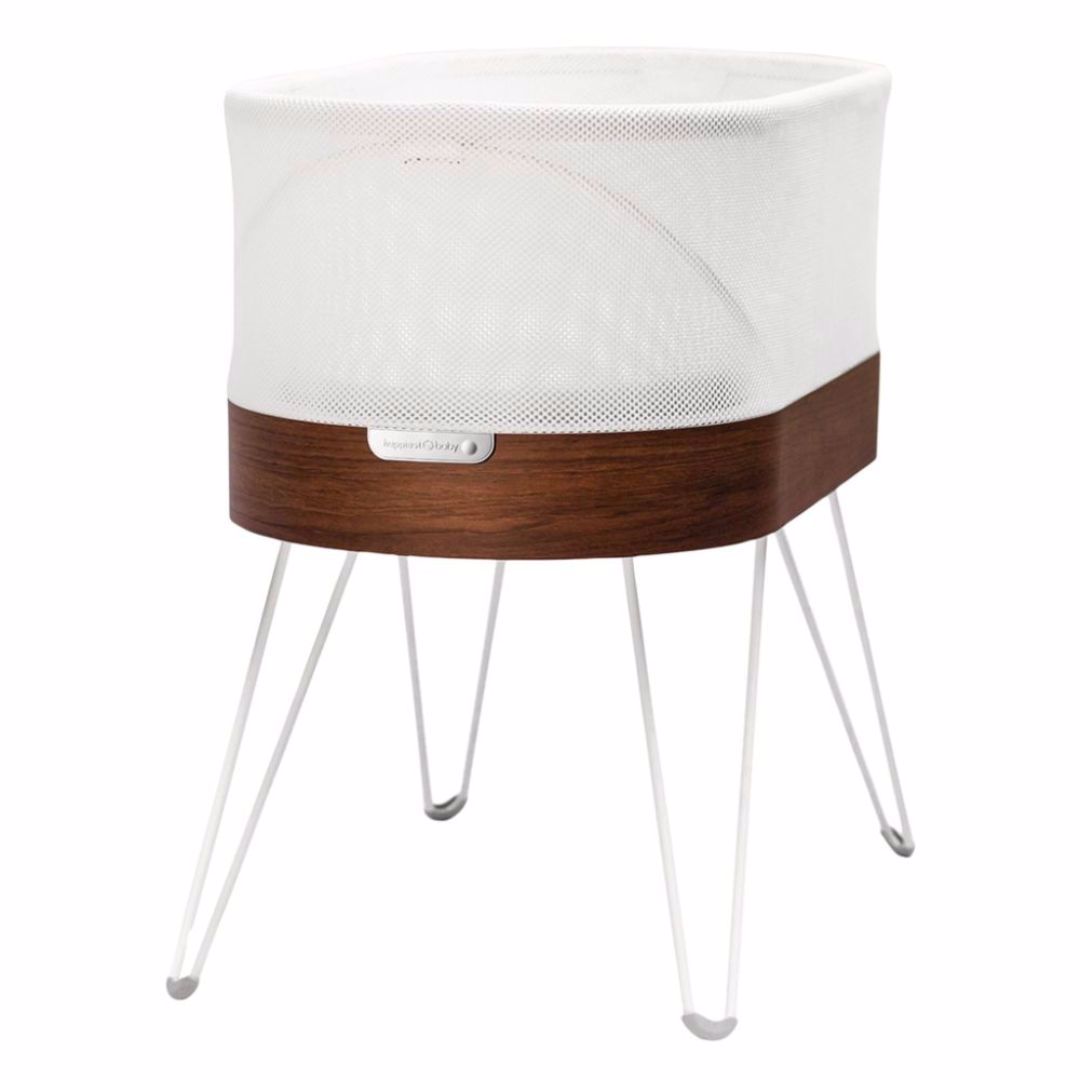 If you're planning on getting a SNOO, here are a couple of my takeaways from the experience so far:

Get at least one extra of everything (sheets, swaddle, etc). That way if you do have any mishaps like we did, you're prepared!

The sell the same kind of swaddle, minus the wings that clip into the bassinet, which we will definitely be using the first time we travel with her this summer!

Make sure your little one has had a solid burp and a good amount of time in between their feeding any laying them down. You should do this anyway, but I think the rocking could make the baby more likely to spit up, especially if they're prone to it.

The app is really great for controlling the SNOO settings and for monitoring how much intervention it needs to do with your baby.
Safety
Because of the way the SNOO clips in, it keeps baby on her back, which is known to prevent SIDS, and allows us to keep her in our room longer, which is amazing. Many bassinets say that you need to transition to the crib as soon as the baby shows any signs of rolling or hits a certain weight, but the SNOO is designed to keep babies and parents closer for longer, which is a huge plus for me.
Final Thoughts
If you love sleep, you should really consider investing in the SNOO. And honestly, as a new parent, sleep is rapidly becoming the most valuable commodity in my life. If that sounds familiar, give it a try!
Claim an
extra 20% Off

sitewide with code:

YBC20

at checkout - valid July 17 - 28 - excludes SNOO Rental, Gift Cards, Bundles and Comforters.
Articles shown are a mixture of informative pieces, anecdotal accounts and professional advice from our panel of Bloggers, Writers and Experts. The views and opinions expressed in these articles are those of the authors and do not necessarily reflect the official view of this site.