Diapers are an essential part of your baby's life. Whilst the design, fit and comfort of diapers have come a long way since the tea towels and safety pins of our childhoods, disposable diapers are losing popularity. However, with a growing focus on environmental concerns such as landfill and the use of plastics, many parents are now considering switching to reusable diapers.
Our guide gives you all you need to know, including the inevitable question of "What do i do with all the poop?"
What's a reusable diaper?
Reusable diapers are exactly what they sound like, no secrets there. It's a diaper which can be washed, either in the washing machine or by hand. Although, the vast majority of parents use a washing machine to ensure a hygienic clean, both for the diaper and their hands. Reusable diapers can be bulkier than disposables, especially if you are using a high absorbency insert or liner, but it beats having leaks
The cost of reusable diapers can vary greatly. A single reusable can be anywhere between $5 and $30, which compared to buying single-use nappies at around $8-18 for 20 or more diapers.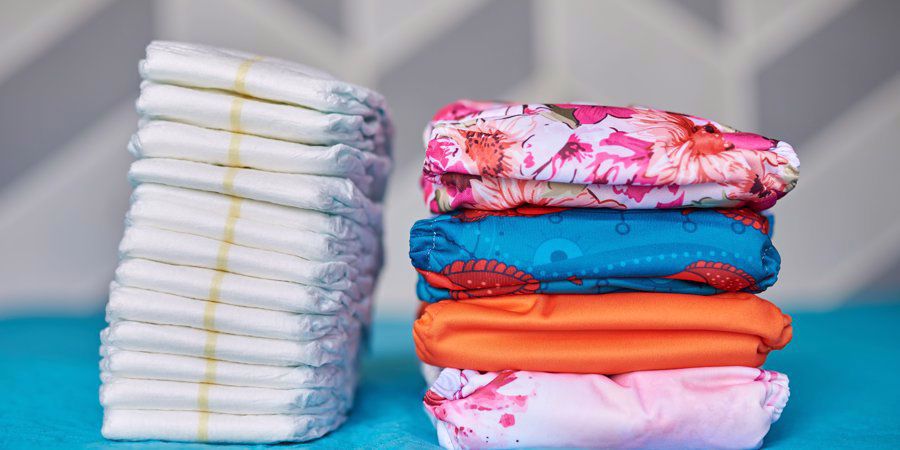 What types of reusable diapers are available?
The two most common types of reusable diapers are:
Shaped/pocket diapers – an outer waterproof cover with an insert or liner to absorb the pee and poop. The liners can either be washed or you can purchase more eco-friendly, biodegradable liners which are disposable. The outer cover comes in a huge variety of colors and styles, making it hard to just buy a few when the options are endless. A huge advantage of these is that they are often size adjustable, making it possible to use on babies from newborn until they're potty trained.
All in one – the cover and the insert are together, which can make for a slimmer diaper and simpler clean up.
How do I deal with a reusable diaper?
Reusable diapers have very ergonomic designs, so you don't have to worry about fiddling around with pins or folding the cloth. The diapers will have snaps, plastic clips or Velcro fastenings instead.
Once the diaper has been used, you have a couple of options for dealing with the soiled ones. If it's solid and you can get it off the nappy, flush the poop down the toilet. You do have the option of just tossing it straight into the washing machine, but you might want to use a pre-wash cycle to loosen anything that's really dried on. You can wait for an entire load of diapers to be ready to wash, rather than washing one at a time, but be sure you can store them without smelling them. If you do have separate liners, either dispose of them (if biodegradable) or wash the liner. It's best to separate the liner from the cover before washing, and you can pre-soak if necessary. Taking this extra step helps get a thorough clean on both parts of the diaper. It is recommended that you wash your diapers at 140 degrees Fahrenheit, but be sure to check the manufacturer's guidelines carefully for any variation. You can dry most diapers on a clothesline or hanger, while some can be tumble dried instead.
Top tips for reusable diapers
You'll need 10-15 diapers if you are going to be using them on a full-time basis. With that in mind, you would need less if you are using them only part-time.
Washing your reusable diapers makes them more absorbent, so intend to wash them at least three times before you start using them. Don't use fabric softener in the washing machine as this can affect the absorbency and lead to possible skin reactions as babies have very sensitive skin.
Check with your childcare provider that they are capable and comfortable utilizing reusable diapers. You may need to provide them with enough diapers to last a full day, plus some spares if they only offer disposables.
Spend some time researching and trying the different types before you commit to buying a large amount. There are different shapes and absorbencies, as well as different liner materials. Mommy chat-rooms and baby store specialists may be especially useful to you in your search for the perfect diaper.
Reusable diapers are a cheaper long-term option than disposable diapers but do require an additional time commitment in terms of washing and drying. Whilst they do reduce the amount of waste going to landfill, you will need to consider the increase in energy used for washing and drying. Before you commit, make sure you do your research, and make the best choice for your baby!

Articles shown are a mixture of informative pieces, anecdotal accounts and professional advice from our panel of Bloggers, Writers and Experts. The views and opinions expressed in these articles are those of the authors and do not necessarily reflect the official view of this site.