Are you looking for the perfect stroller-basinet combination? If you are, the Inglesina Electa Stroller & Bassinet really delivers. Available in three different colors (Black, Chelsea Gray, and Tribeca Green), the stroller suitable up to 55 lbs, the bassinet up to six months, these luxurious products are great for parents on the go.
You can easily open and close the Electa Stroller with just one hand with the seat attached (the seat is reversible!); and even though it's full-size stroller, it can be easily carried with just one hand. The Electa Bassinet is large and comes with a portable bassinet stand, so it can be positioned comfortably and safely inside your home or while you're traveling.
Weight
Steering
Ease of Folding
Durability
Size / Storage
Features and Accessories
Design
Affordability
Best For
It's a lightweight, smooth stroller, easy to maneuver, and stylish. Perfect for getting around town, parks, sidewalks, and stores. Everything is interchangeable. The bassinet clicks into the stroller, and it comes with car seat adapters, so most car seats fit, too. The stroller folds down nicely, easily fitting into your car trunk, making travel easy.
Pros & Cons
Lightweight and lots of functionality
Easy to pop open and maneuver
Gorgeous, breathable fabric
Large bassinet
Large basket on stroller
Little more on the expensive side
No place to hold cell phone on stroller
Bassinet doesn't fold down to smaller size
Specifications
Stroller Features
Suitable for use from birth to 55 lbs
All fabric lining is removable and machine washable
Reversible seat, large UPF 50+ hood, cup holder and rain cover
Medium density foam with 40 holes for ventilation
Anti-UV (UPF50+) treated fabric with sun visor
Ultralight and compact (only 19 lbs!)
One-handed opening and closing system
Large storage basket
All-wheel suspension and 1-foot stop-and-go brake
Leatherette handle that's height-adjustable in 4 positions
Bassinet Features
Suitable from birth to six months
Approved for overnight sleep
Cover is made of double panels and "quick-access" apron
All-wheel suspension and 1-foot stop-and-go brake
When folded, the handle does not touch the ground
Large internal dimensions (31.10" x 14.57")
Portable and travel-friendly
Ventilation control system that regulates air flow and prevents humidity build-up
Medium density foam with 40 holes for ventilation
Safe and high-quality, free of regulated BPA, BPS, flame retardants, phthalates, and lead materials
Specifics, Weight & Dimensions
Stroller:

Basket Weight Capacity: 11 lbs
Stroller Weight Capacity: 55 lbs
Weight: 19.25 lbs
Overall (open): 19.75" wide x 42.25" deep x 36.75-38" high
Overall (closed): 19.75" wide x 12" deep x 29" high
Storage Basket: 14" wide x 22.5" deep x 12" high
Front Wheel: 6.5" diameter, 1.5" thick
Back Wheels: 8.5" diameter, 1.5" thick
Handle: 1.5" diameter, 17" wide
Hood: 16" wide x 20.5-36" deep x 17.5" high
Bassinet + Stand:

Suitable from birth to 6 months
Weight: 12 lbs
Overall: 14.5" wide x 31.25" long x 8.75" high
Stand (open): 18.5" wide x 27.5" deep x 21" high
Stand (closed): 18.5" wide x 5" long x 21" high
Get Yours Now
First Impressions
After unboxing these items, the assembly was easy and quick. The Inglesina Electa Bassinet is so luxurious and spacious, with beautiful, gender-neutral padding and a cooling ventilation control system. The stroller came with Car Seat Adapters, but the Bassinet also easily clicks into the stroller base (as well as its own simple 'Standup' frame). The bassinet also comes with a hood and easy-access cover (UPF50).
I loved the color - the overall stylish factor - and I couldn't get over how well everything worked together, bassinet to stroller or car seat to stroller, forward or parent-facing seat, an adjustable handle, a huge basket... and it's so lightweight! And the bassinet is simply gorgeous and so comfortable.
Maneuverability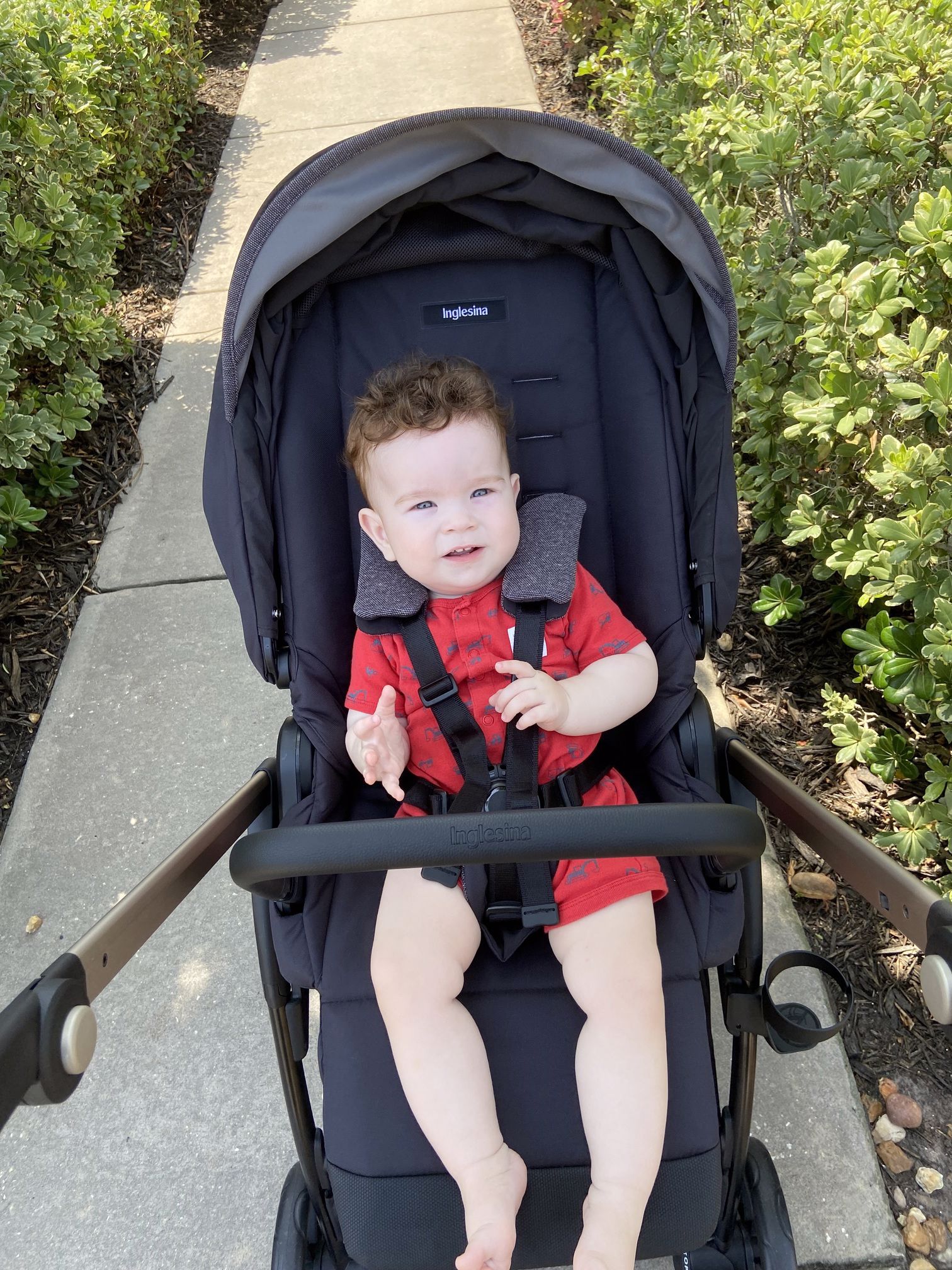 The Inglesina Electa Stroller is perfect for everyday use, sidewalk bumps, and theme parks, due to its shock-absorbing, foam wheels and a large storage basket underneath. It's a lightweight stroller that's effortless to push around. It makes smooth turns, and with one hand, you can fold it down or pop it open.
Folding, Unfolding, Storage & Lifting
This full-size stroller can be easily carried with just one hand thanks to its convenient carry on handle. The Electa stroller features a legendary one-handed opening and closing system. You can easily open and close it with just one hand and the seat attached; the folded stroller stands on its own and is car seat compatible. We have a small car and the stroller easily fits in the truck (or the backseat, when our trunk is full).
Comfort & Ease of Use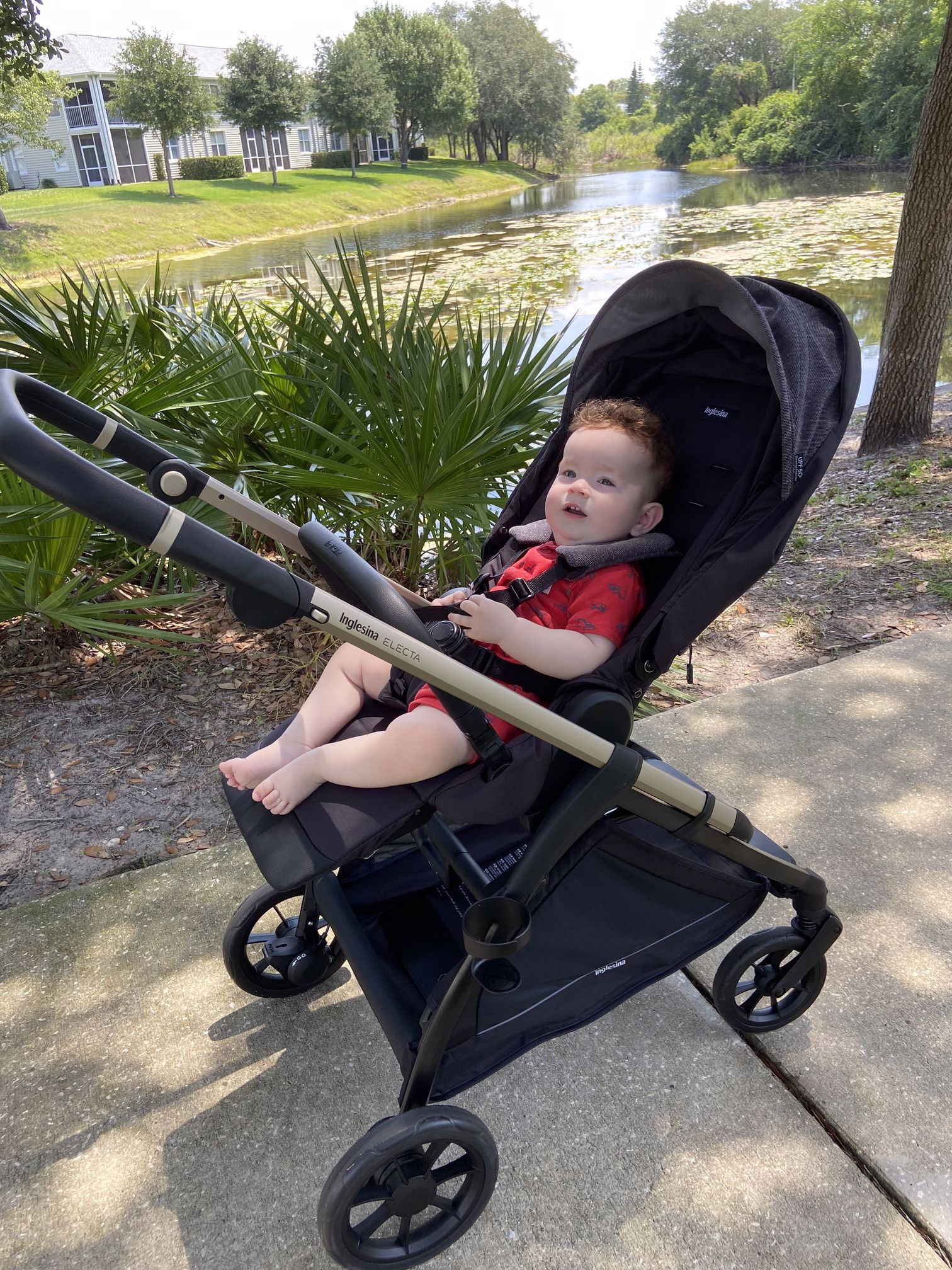 The five-point harness system was easy to figure out, and the shoulder pads are extremely comfortable and don't move - they won't fall off and get lost! The stroller is easy to use and turn. Plus my son was very comfortable in there. The seat can face the parent or the street, the high backrest adjusts to help your child comfortably sit up or lay down, and the cup holder sits lower on the base, leaving the height-adjustable (four options) leatherette handle free of anything extra. Also, some added bonuses, it comes with a rain cover and all of the fabric lining can be removed and is machine washable!
The bassinet is luxurious and comfortable. My son was instantly at home. It's so big that even at 10 months, he still technically fits inside it (and he's in the 90th percentile for height!). Though we stopped using it around six months, when he was becoming mobile. You really can't go wrong with the Inglesina Electa Stroller & Bassinet.
Safety
The stroller's five-point harness is very secure and easy to adjust. The comfort pads don't move or get in the way as some do (they're actually very comfy!), and the shoulder straps are easy to adjust as your child grows. The brake is simple, one side for 'stop' and one side for 'go', they hold securely, and are flipflop friendly! The bassinet doesn't have a harness system, but if you follow the rules (once your baby can roll over and sit up, you stop using a bassinet), you'll be just fine. The bassinet stand is very secure, and the fabric is extremely soft and breathable.
Final Thoughts
The Inglesina Electa Stroller & Bassinet is by far one of the best stroller and bassinet combos I've seen. The stroller is lightweight, compact, and tastefully sophisticated, the bassinet is spacious and chic... both are perfect for everyday use. I loved using them, and my son loved being in them.
Articles shown are a mixture of informative pieces, anecdotal accounts and professional advice from our panel of Bloggers, Writers and Experts. The views and opinions expressed in these articles are those of the authors and do not necessarily reflect the official view of this site.