To some, having a baby may seem a little daunting, especially in a financial sense. Ignoring the fact that your body's about to change drastically, you're going to feel things you never thought you would and you're going to start craving some weird and wonderful foods. But the fact remains, babies are expensive and they don't stop being expensive until they've left home. The majority of women don't have a large sum of money tucked away to ensure their income and lifestyle doesn't change once on maternity leave or have planned that far in advance to save up. So how can you actually budget for maternity leave?
In the United States, parents are protected by the Family and Medical Leave Act of 1993 (FMLA). This act only protects parents for up to 12 weeks of unpaid leave surrounding and following the birth of a child, if the employed parent works for a company of over 50 employees. Unfortunately, there is no federal requirement for companies under 50 employees to provide any type of maternity or paternity leave, which otherwise means that the employee will be replaced if they take leave anyway. The employed parent must have also worked for the employer for 12 months or more in order to qualify for leave at all. Some states have passed legislation to extend maternity leave and paternity leave, but most are still unpaid agreements, but with the guarantee of their job still being there when they return. The United States is one of the few countries that does not recognize the recommended minimum leave, which is 16 weeks, as stated by the World Health Organization. Only a few states like California and New York have instituted any kind of paid maternity leave. As you can imagine, this makes having a baby even more daunting for a working professional, as it stops their income and puts them at risk of lower wages when they do return from their too-short leave. To make things more stressful, only about 12% of insurance policies actively offer maternity coverage, which ends in expensive labor and birth after countless check-ups and routine labs.
To give you a little shock of reality, in the first month of your baby's life, families spend, on average, $500 on things like diapers, clothes, feeding equipment, toys and other nursery must-haves. Across the first year, totalling everything you might buy for your growing baby, families typically spend over $12,000, which doesn't include childcare costs, which can set you back a whopping $650 per month. Makes you feel a little sick doesn't it?

Many moms will tell you that you'll never be financially prepared for a child, but there's no harm in trying and making things a little easier for yourself! If you're thinking about trying for a baby, now's the time to start setting money aside - as much as you can afford. Try setting aside 10% of your average weekly earnings before tax as a starting point, it's a small start but it can add up and come in handy. For your maternity leave, where income will likely halt unless you are in one of the lucky states, this is where how much you save up beforehand will likely determine how long you will be able to take off work. For most new mothers in the US, a 12-week leave is not nearly enough, and so they will forfeit their careers unless they can otherwise afford childcare. In some cases, it is possible to save up enough to cover 3 months of no pay, but it is a daunting amount of money to save up. You'll also have the 9 months before the baby is born to keep saving and then once you're back at work, your renewed income can help you continuously set money aside to cover everything baby-related, including any childcare costs, but realize that you may return to a lower wage than what you left.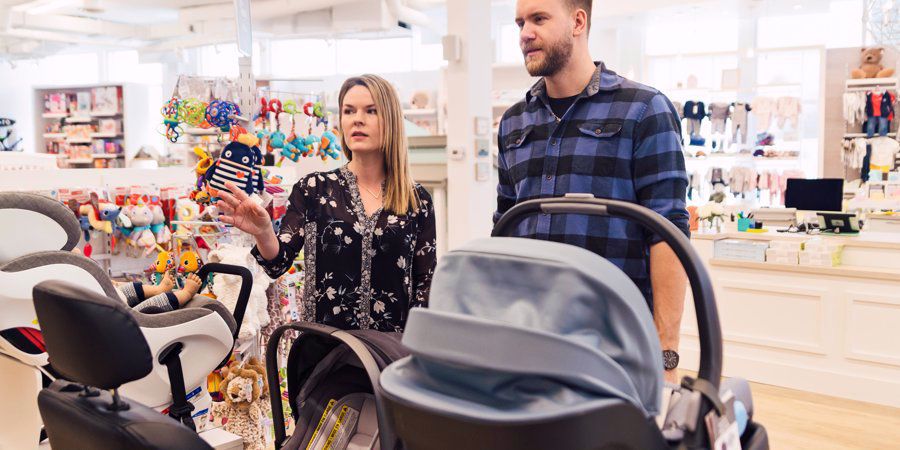 Budgeting for maternity leave can be a little easier once you know what savings total you're aiming for, rather than saving blind. Asking family and friends for donations for birthdays and Christmases could also help you reach your savings goal. If you don't like the idea of asking for money, you can create a shopping list of items you'll need, items you want and other items you may buy when the time comes, then share it with your friends and family in time for your Baby Shower. There are tons of baby registry sites and wishlists online such as Macy's, Amazon, Buy Buy Baby, The Baby Shoppe and most other department stores which will all give you a convenient link to send to loved ones so they can buy things as gifts.

To help you save, cutting back on a few things while you're trying to conceive would be a good place to start. Swapping dinners out for home cooking, gym memberships for home workouts, nights out for movie nights in and limiting shopping trips can go a long way for saving money you might otherwise spend. A good tip I've picked up over the years is to look through your bank statement and after each purchase, round up to the nearest dollar and set the change aside for the baby. Many online banks now help you do this automatically and can also set you up with specific savings accounts to ensure you get the best savings rates and stop you from dipping into it prematurely. Setting up a direct debit into your savings account will also be a good way to save without thinking about it. It will come out routinely, like a bill, and the amount can still be adjusted each month. If you monitor your finances closely like I do, you can work out how much money you'll have left at the end of the month after bills and other regular expenditure, give yourself a small 'allowance' for general spending, and then set the rest aside in a place where you won't be tempted to dip into it.
Once you're closer to your goal, you can start looking at other ways to raise money, such as putting in overtime at work, selling things you no longer need or even compromising on a few things you want to buy. Instead, you can look at second-hand items or ask friends and family who have had children if they have any clothes, toys and other baby essentials they could give to you. There are so many ways you can make sure you don't struggle whilst on maternity leave, I just hope I've given you enough ideas to get you started so you're well on your way to saving up for your own little bundle of joy!
Articles shown are a mixture of informative pieces, anecdotal accounts and professional advice from our panel of Bloggers, Writers and Experts. The views and opinions expressed in these articles are those of the authors and do not necessarily reflect the official view of this site.